The good, the bad and the ugly in employee monitoring: How to track employees without becoming a corporate 'Big Brother'
Tracking your workforce is a tricky process that can lead to several headaches especially in a time where privacy concerns and the rise of a mobile, dynamic workforce are active ingredients of the corporate world. But how to know if you have crossed an "invisible" red line in employee monitoring?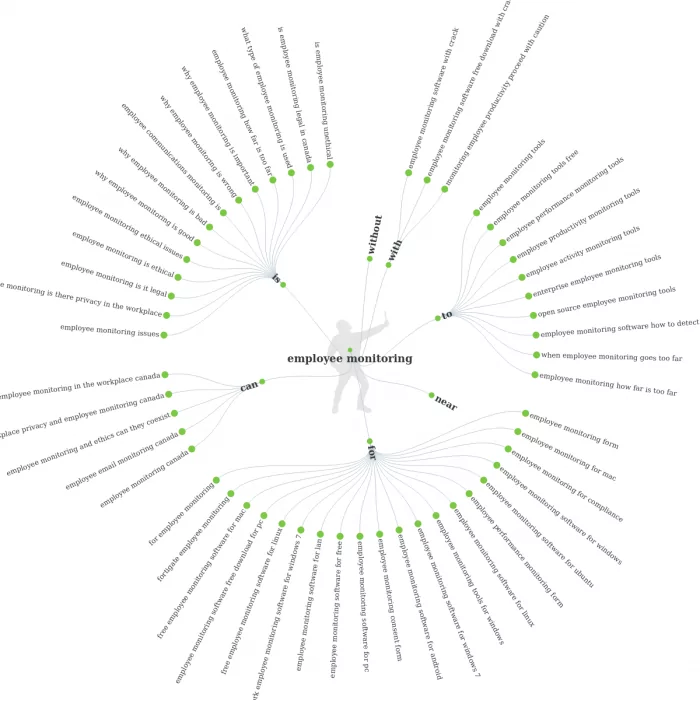 Let's start with the good in employee monitoring…
Technology has empowered companies to track their employees in a number of sophisticated ways. From high-definition cameras and intelligent devices (e.g. wristbands capable of mapping out movement) to GPS and employee time tracking systems, today's businesses can subtly and effectively monitor the overall performance and behavior of their employees, even gaining insight into the true cost of employees.
While this may sound inviting for companies, the truth is that monitoring employees is a tricky process that needs the right balance in order to be successful. In fact, the decision to monitor employees is a difficult one for several reasons including things like costs, culture, privacy and employee perceptions. "The challenge is to balance the security needs of the corporation with the privacy concerns of employees," says Shawn M. Thomson, founder and director of the Insider Threat Training Academy.
In spite of those concerns and the special attention that is required to find the right balance, the benefits associated with employee monitoring activities can easily seduce any company that wants to bring more security, compliance and productivity into the organization. According to Shawn M. Thomson, visibility of employee actions, protection of assets and knowledge of threatening behaviors are some of the main benefits that companies can obtain from tracking their employees.
As far as productivity goes, workplace monitoring could significantly protect companies in terms of financial costs. According to an article published on TechWorm, "the enormity of potential productivity losses is approximately one million dollars annually for a company with 500 employees surfing the Internet for just a half hour a day."
Apart from the productivity boost, tracking employees may be the only and most effective way to protect your company. As stated by Shawn M. Thomson, "in many cases, monitoring employee behavior might be the only regulatory shield or legal defense available to an organization."
…the bad: how much employee monitoring is too much?
As we can see there are real and considerable benefits associated with employee monitoring practices. However, "what companies gain in productivity might be lost in engagement and trust especially if the business isn't transparent about how they are monitoring workers," says the teacher and writer Gina Belli from the compensation platform PayScale.
This engagement and trust can be further deteriorated if people perceive the whole monitoring system as something that not only put at risk their privacy but also their jobs. When your employees have the feeling they are constantly monitored and their professional future depends on how well they adapt to this 'Big Brother' environment, their morale will collapse as a house of cards.
In an article published on nbcnews.com, the digital marketing specialist and freelance writer Larry Alton talks about the negative impact of this kind of perceptions among employees. According to Alton, the following are some of the effects that constant monitoring can generate within your organization:
Reducing humans to numbers.
Adding stress into the workplace.
Forcing identical working habits.
Killing morale and creating a high turnover.
By bringing any of the above issues into your organization, you are on your way to create a noxious corporate culture for your company. Because of that, it is essential that you, as a manager, constantly check your monitoring activities and ask some of the following questions:
Have we crossed the line with our monitoring activities?
Do we have in place a solid ethical framework to deal with privacy-related issues?
Are we having a transparent communication with our employees?
Are breaks part of my company's productivity?
How substantial are the benefits of my monitoring activities? Do I really need them?
Considering the above, if you want to have a healthy employee monitoring system in your company you need to monitor and update that system on a regular basis. However, before we move to some of the best practices of this process, it is worth raising some of the issues that dominate current debate on employee monitoring in the era of the mobile worker.
And the ugly. Time tracking with screen capturing: Insights from monitoring activities in the freelance world
Even though employee monitoring is a tricky process to implement, it could be a straightforward thing when you are dealing with a standard office environment. However, in the era of the freelance, mobile worker, the ability to track the work and performance of these 'alternative' professionals poses a big challenge for companies all over the world.
There is, indeed, a natural clash between being a freelancer who wants to be his/her own boss and the whole idea of 'surveillance' that goes along with employee monitoring activities. An interesting discussion on reddit regarding screen capturing time-tracker apps highlighted some of the main concerns people have regarding employee monitoring at this level.
The discussion started with the following statement: "Screen capturing time-tracker apps. Client wants me to use one. To me it sounds creepy and like they have trust issues. Do you use them? Am I wrong for not wanting to?", asked a freelancer looking for some advice. The replies that followed revealed some of the things that people dislike about monitoring as well as some of the ideas that companies should consider in order to effectively track their regular and non-regular workers in a "good nice way".
Let's mention some of the things people didn't like about time tracking with screen capturing. To begin with, hardly anyone wants to install invasive software or "spyware crap," as someone put it, in their computers. Also, several freelancers stated that these kinds of tools reveal a client who doesn't trust the freelancer so the business relationship is doomed from the very beginning.
Along those lines, a user said that screen capturing is not even acceptable in ethical grounds. "Time-tracking? Are you selling time or are you selling them short-term access to talent they don't need all-year-round?", asked the same user provocatively. Finally, screen capturing doesn't make sense for all kinds of jobs. "Most of the 'work' I do is abstract. I don't necessarily need to be typing", said a programmer.
While most of the replies in the discussion were wary about screen capturing, there were some replies that provided some valid room for implementing this type of employee monitoring too. For instance, some of the people who rejected screen capturing didn't have any problem with providing reports of how they use their work time. Likewise, some users were willing to deal with screen capturing/time tracking apps as long as they were not invasive and the job pays well.
In terms of trust, one user cautioned about refusing jobs just because a client may want to monitor the tasks more effectively. "Personally, I would either get used to it, or find another client. I know it's snoopy and soul-sucking, but refusing would send off terrible red flags for them", said the user.
Let's hear from the experts
We reached out to three experts on the topic of employee monitoring, hoping to get their opinion on employee monitoring today. Find the questions, and their detailed answers, below.
In your opinion, what is the good, the bad, and the ugly in employee monitoring nowadays?
How has employee monitoring evolved as more people work remotely?
Finding the right balance
As we have seen before, there are lots of pros and cons surrounding employee monitoring activities. However, if you really want to track the work of your employees, there are several things you can do in order to implement a system that runs smoothly and doesn't affect the motivation of your workforce and the corporate culture of your organization.
According to William J. Hallan, Executive Vice President, Chief Operating Officer and General Counsel at the Michigan Retailers Association, the following are some of the best practices to follow as you consider implementing various tools to monitor your employees:
Make sure that your employee monitoring is based on advancing your legitimate business interest.
Consider whether your approach might violate your employees' reasonable expectation of privacy.
Develop a well written policy that is clearly communicated to employees.
Obtain written acknowledgement from employees that they have reviewed the policy and that they consent to various forms of monitoring.
Once information regarding an employee's activities is recovered, treat it in a sensitive and confidential manner.
Similarly, Larry Alton suggests various tips for keeping a good balance between earning the value of monitoring activities and keeping your employees happy. In fact, while referring to time tracking software, Alton suggests to do a gradual rollout avoiding instituting new tracking policies and requirements overnight.
Along those lines, Alton also advises companies to use tracking systems as tools and not as the only source for evaluating people. He also highlights the importance of bringing flexibility into your company and listening to your employees when they give you feedback about your monitoring systems.
Considering all this, the best way to persuade and seduce people with the implementation of monitoring activities consist in finding a good balance between your company's needs and the interest of your employees. And, what do they (we) want? Let's remember a couple of things:
Honest, transparent communication.
Real opportunities for growing within the company.
Learning and training opportunities.
Good salaries.
A constructive environment where anyone has a voice.
Similarly, in the freelance world, clients may be more effective at persuading people to use things like screen capturing apps if they pay well, offer contracts, provide training, and encourage ownership of projects. In other words, when people feel their client or company cares for their professional and personal development, employees will be much more comfortable with monitoring systems.
It's all about balancing one thing with the other. Use trustworthy communication to tackle the lack of trust that comes with monitoring activities. Provide flexibility and freedom to your team so you can reduce to the minimum the surveillance ingredient associated with tracking-related processes. Introduce and implement things like time tracking apps as useful tools aimed at helping people to do their best. If you are able to build this kind of work environment, you will be able to implement employee monitoring activities in a very effective way.
Do you have any experience implementing monitoring activities across your organization? If so, please feel free to share with us your thoughts, ideas and the lessons you gained from your own experience.
Image credit: Photo by Chris Nguyen on Unsplash.