Today we introduced a new setting in the Timesheet Settings module to let you refine even further your timesheet approval process:
"Only project managers can approve their projects"
If your organisation includes project managers and team leaders, by default, project managers can approve the time recorded on their projects but team leaders can approve hours recorded by the employees they manage, including the hours done on projects.
If you want to make sure that the hours done on projects are exclusively approved by the project managers and not the team leaders, make sure to check the box of our new setting.
When turned on, team leaders will still have to approve absence hours and hours done on projects with no project manager.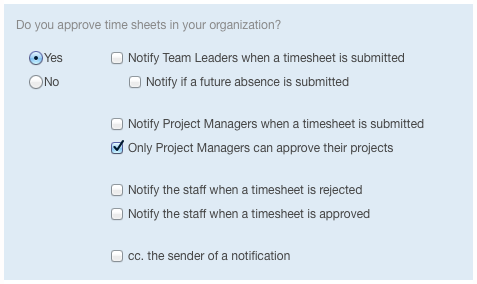 Note: If you decide to turn this new setting on, be aware that it will not impact employees with specific timesheet settings.
To download a list of the employee with specific timesheet settings go to Settings > Account > Download your data and download the list of employees. The last column marks if they have a specific set up.