Inaccurate time tracking costs companies money, and chasing after late timesheets costs managers time. However, it is also easy to understand why employees either forget, or choose not to track their time. While we can't make your employees love time tracking, we can offer these 6 tips to motivate and incentivize them.
1. Communicate the purpose of time tracking
This first point is covered in our blog post on The Keys to Successfully Onboarding Your Team to Start Time Tracking, but it bears repeating. Employees will not be motivated to track their time if they do not understand the purpose or benefits of doing so. Your company may use time tracking to more accurately invoice clients, pay contractors, identify costly projects and money sucks, redistribute resources, or budget more accurately. Whatever the reasons, communicate them to your team and implicate employees in achieving the company's goals.
2. Set clear policies and guidelines
Be clear from the get-go about employees' obligation to submit their timesheets on time, and the consequences if they do not. For example, Will they be expected to submit hours on a daily, weekly, or monthly basis? How many reminders or "strikes" will a repeat offender get before the issue is escalated to a manager? Time tracking should be viewed as a job responsibility, and you may want to distribute a written agreement or include the policy in employment contracts. This can be a touchy subject, but as long as your organization is following the applicable laws on employee monitoring, you have every right to stand your ground. Clear guidelines will also make problems with enforcement easier to resolve later on.
3. Let your employees learn how to use the timesheet
No matter which time tracking method or software you choose, make sure your team actually understands how it works. Do not place the onus on busy employees to figure it out on their own; meet them halfway. Organize a training session in person, or distribute a guide or video tutorial via email. Perhaps consider only onboarding one team first, to identify hiccups and points of confusion before implementing the tool companywide. Even with easy-to-use tools like Beebole, a basic overview means one less barrier to adoption. Skipping this step will lead to frustration, wasted time, and empty timesheets later on.
4. Send automatic timesheet reminders
Life gets busy, and we can all use a friendly reminder every once in a while. With Beebole you can program automated reminder emails on a daily, weekly, bi-weekly, or monthly basis. Emails will only be sent to employees who have yet to submit their timesheet for the given period. Many plugins will also allow you to program recurring emails from your Gmail account. However you go about it, this is a simple but effective step in keeping your team accountable. For inspiration, don't miss these examples of timesheet reminder templates.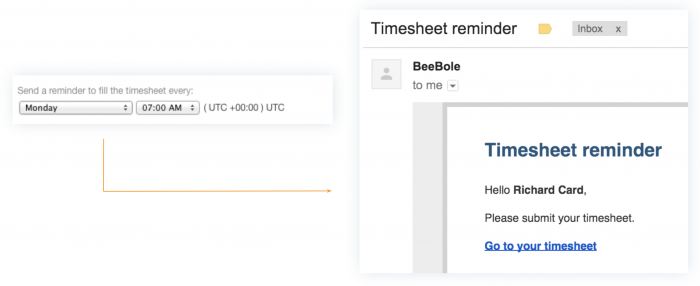 5. Follow up
Hopefully you have completed step one and clearly communicated your time tracking objectives to employees, but don't forget to follow up and update them on progress made toward these goals. Depending on the size of the organization, send updates via email or give them in person. Consider including any enlightening reports, valuable insights, or new initiatives stemming from your time tracking data. Also, take the opportunity to ask for feedback, and thank the team for their efforts. A simple "thank you" can go a long way, and these periodic updates will remind employees that all that time tracking data is actually worth something.
6. Use gamification in time tracking
Incentivizing time tracking is a controversial technique, and whether or how you choose to do so will depend on your particular company culture. Offering rewards like gift cards or bonuses should not take away from the fact that time tracking is part of employees' job responsibilities. If you're having problems motivating employees, and do choose to offer extra incentives, ensure that they are not just a short term band aid for a deeper problem.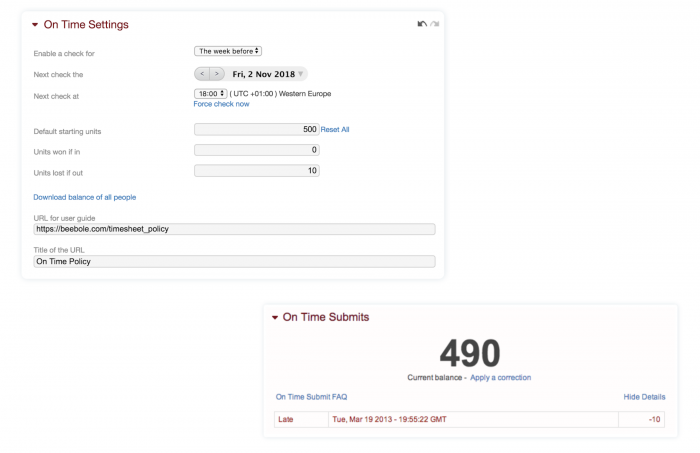 Nevertheless, gamification can stoke friendly competition and serve as a fun and engaging motivator. With Beebole's On Time module you can deduct points from employees who submit their timesheets late, and compare performance over the course of the year. Admins can configure the credits that employees start with, and how many are taken away for late timesheets. You can even include a link to the company's time tracking policy. Give rewards based on team performance to add a little extra pressure and encouragement.

Sign Up for a 30-day Free Trial
So there you have it — six steps to (practically) painless employee time tracking. Change is never easy, but keep these tips in mind and remember that, when done right, time tracking will provide significant and tangible benefits for your business.
—
Photo by @rawpixel on Unsplash