The Top 10 Time Tracking Apps You Might Not Have Heard Of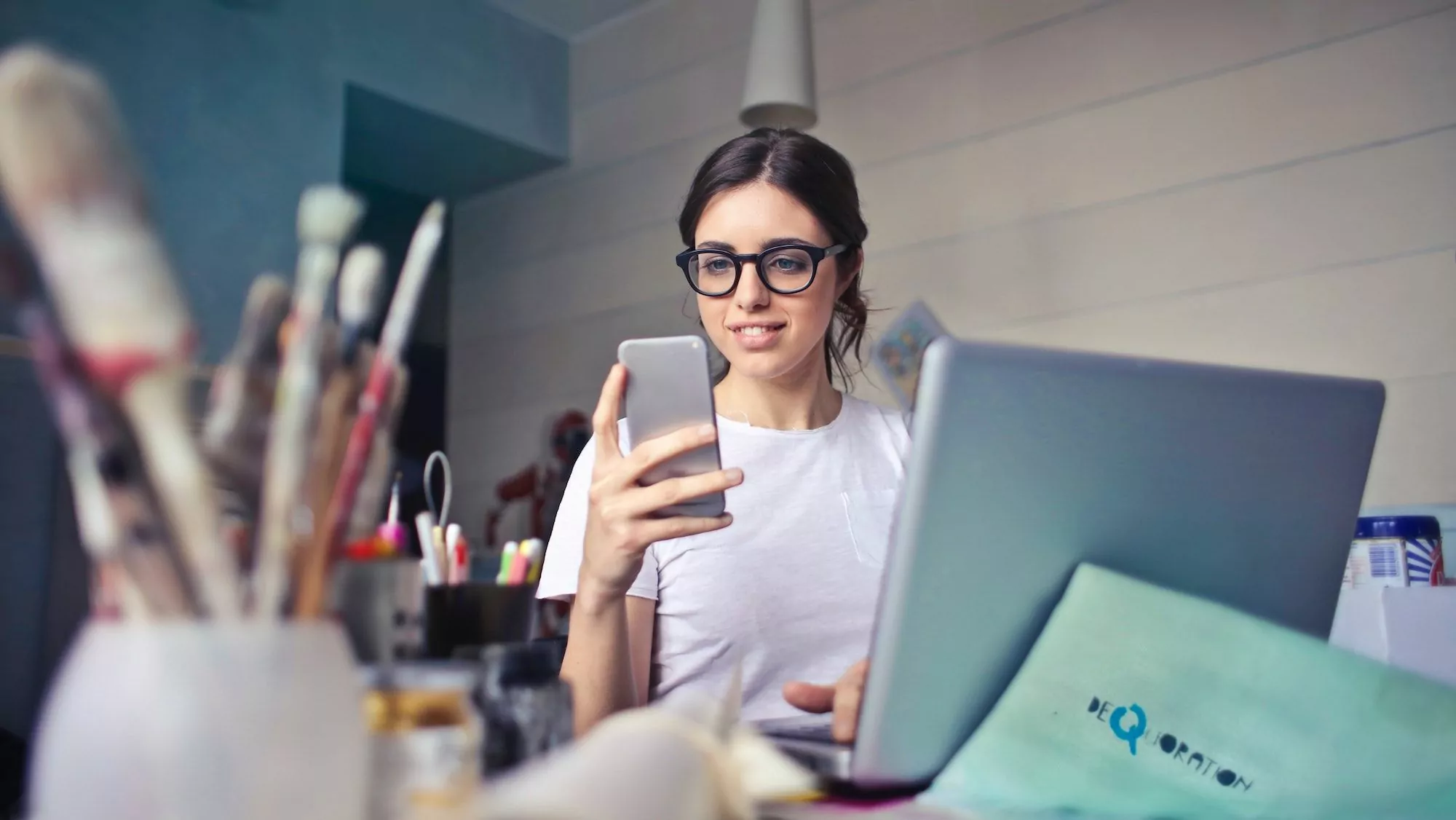 There is a considerable number of timesheet tools on the market, particularly as more countries implement employee time tracking legislation. Giants in enterprise software development have released solutions of their own, which usually offer the added benefit of integrating with a large suite of products. But bigger doesn't always mean better! There are a plethora of top time tracking apps out there that you might have overlooked. These tools offer features and price points to meet the needs of teams and businesses of all sizes.
Time tracking tools for various needs
Did you know that a time tracking app can be used for various end goals? Whether you're interested in project time tracking or an attendance tool, a time tracking app might easily fit your needs.
Project time tracking is ideal for tracking time on tasks, projects, teams, or clients. This time tracking data opens up invaluable insight into costs, project profitability, budgets, and much more. With Beebole's project time tracking tool, you can run all sorts of reports with this time tracking data, delving into things like employee productivity, absences, billable vs. non-billable hours, and much more.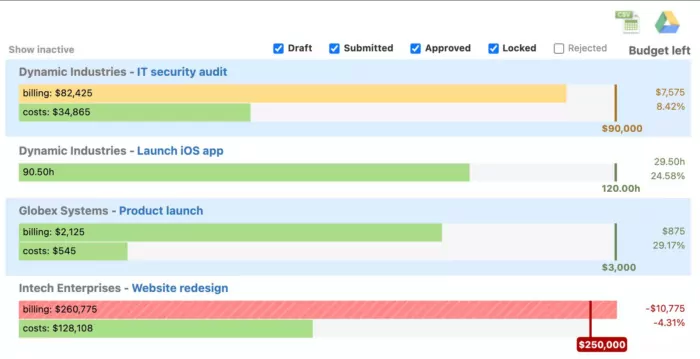 Beebole also serves as an easy-to-use attendance tool, allowing employees to clock in and out with the simple click of a button. It's available on desktop or mobile, and it can be used without an Internet connection.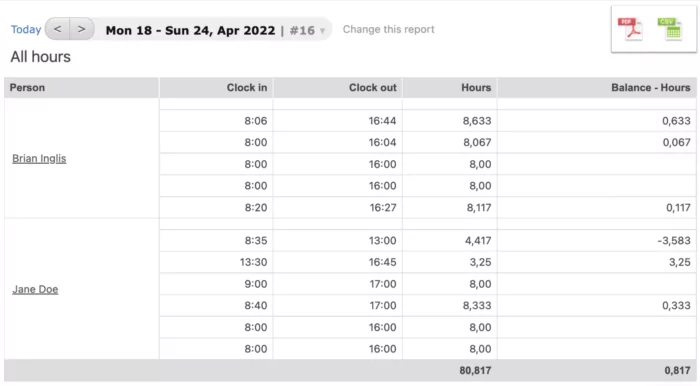 Beebole
Who else would we put #1 on a list of the best time tracking apps? That being said, we are confident that Beebole offers one of the most flexible and reliable timesheet solutions out there. Beebole was founded in 2008 and is now used by organizations of all sizes and industries in more than 60 countries. Employees can track time for clients, projects, sub-projects and tasks using a one-click timer or manual time entry. Tracking can be done on desktop or with the free mobile app.
With the platform's team overview you can check project status, team performance, and overtime in a quick glance. Log attendance, vacations and leaves of absence, and upload local public holidays into your team's calendar. With Beebole's approval flow, project managers and administrators can bulk review and approve timesheets, request changes, and lock time entries.
Beebole offers highly customizable and powerful reporting on employee time, budget, margin, and profit. Save them, print them, and use them for audit purposes, billing, or to build trust with your clients, for example. Set billing rates and costs for tasks, projects, clients, or employees to generate accurate invoices. Build custom KPI dashboards that unleash powerful business intelligence insights, and share them with certain user groups.
Pricing: $6.99 per use per month with a 30-day free trial and no credit card required. Volume discounts and 10% off for NGOs and educational institutions.

MyHours
MyHours is a cloud-based time tracking system designed for small teams and freelancers. The platform lets you to track time in real time or manually, using the web platform or the mobile app for Android and iOS. Track time on unlimited projects and tasks, select billable or non-billable time, and add additional information to time logs. Administrators will be able to get an overview of all time logs in real time.
Beyond time tracking, you can generate exportable reports, send personalized invoices to clients, and set custom billing rates by person, client, or project. Set hourly or monetary budgets for your projects and be notified when you're close to reaching them. In addition, if you are looking for clock in / out and leave management solutions, check out MyHour's sister product, AllHours.
Pricing: Basic plan free for unlimited users, $7 per active user per month for Pro Plan.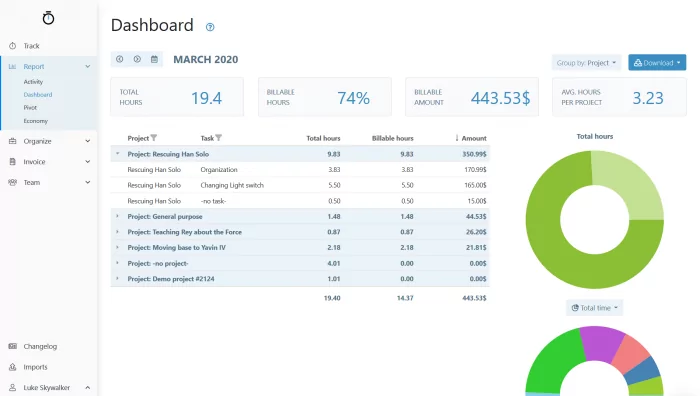 Timeneye
Timeneye was developed internally by a software agency back in 2013, so it was created with the needs of small businesses in mind. Today, the tool focuses on project time tracking, with options to track time manually or using a timer for different projects, phases, and clients. Tracking can be done via desktop or on their mobile apps for iOS and Android. What's more, the tool learns about your work habits and automatically creates suggested time entries that you can accept or reject.
It's easy to get a handle on your tracked activities using Timeneye's customizable calendar style dashboard. The reporting tools monitor project profitability, identify time sucks, and help your whole team to improve productivity. Finally, Timeneye integrates with Asana, Basecamp, Breeze, Podio, ClickUp, Google Calendar, and more.
Pricing: Free for a single user, $7 per user per month for Pro Plan.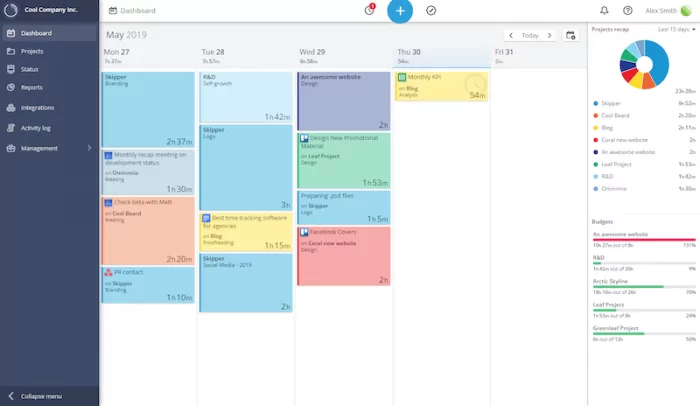 TMetric
TMetric is an online time tracker for freelancers and teams of up to 100 people, developed by Devart. Devart has been offering database development and management software worldwide for more than 20 years. With TMetric, track working time and breaks with a timer or manually. It also features idle detection, offline mode, screenshots, and locked timesheets.
TMetric offers a mobile app for iOS and Android, as well as a range of integrations including Asana, Assembla, Basecamp, Freshdesk, Jira, GSuite, Quickbooks, and more. Aside from time tracking, you can set budgets for projects and billing rates on people, projects, clients, and tasks. Track time off, invoice clients, and unlock business intelligence with detailed productivity and time and money reports.
Pricing: Limited free plan for up to 5 users; Professional Plan for $5 per user per month; Business Plan for $7 per user per month.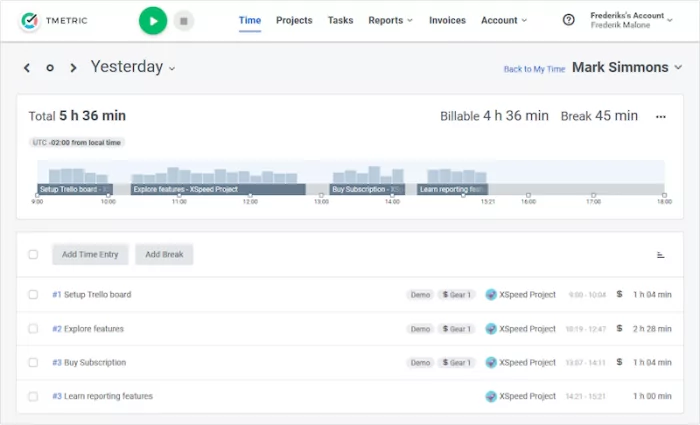 nTask
nTask is a robust task management platform that offers time tracking and timesheet features. Users can track time with automatic and manual time entries, including time estimates. This app can keep all of your projects and tasks in one loop, ensuring you don't miss out on anything for business success.
The timesheet feature allows you to keep track of time for all tasks by each team member. Users can send the timesheets to managers for approval and easily export the timesheets to PDF files. nTask offers Android and iOS apps, as well as integration with Google Calendar, Outlook, Zapier, and Zoom. It's a great tool to ensure project success and meeting deadlines.
Pricing: The premium plan starts at $3.99 per user per month, and the business plan starts at $11.99 per user per month.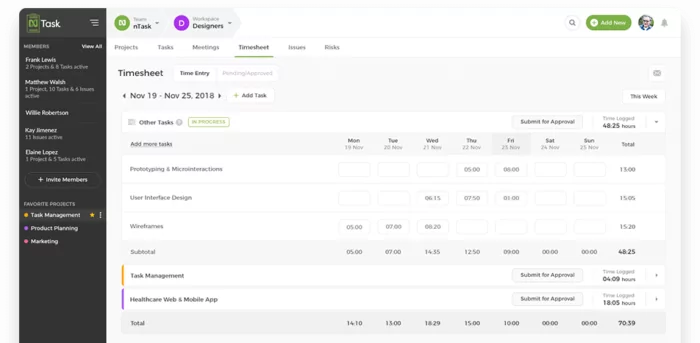 Apploye
Apploye is a comprehensive time tracking software that helps businesses grow from their core. As a time tracking solution, Apploye offers an automatic and manual timer, calculation of billable and non-billable hours, simple clock-in/clock-out from mobile app, as well as additional features like pomodoro timer and idle timer option. It also offers employee monitoring features including random screenshots, apps usage, and URL tracking.
At its advanced level, Apploye can help manage multiple projects, allocate and track the budget progress, and pay employees according to the base you set for them (hourly or fixed). Apploye also offers a client management and project invoice generation system. Additionally, it helps you make teams, assign roles, add multiple organizations, and manage multiple tasks simultaneously.
Pricing: Available with four different pricing plans. Solo ($4/user/month), Standard ($5/user/month), Premium ($6/user/month) and Elite ($7/user/month). 50% discount offered on a yearly plan.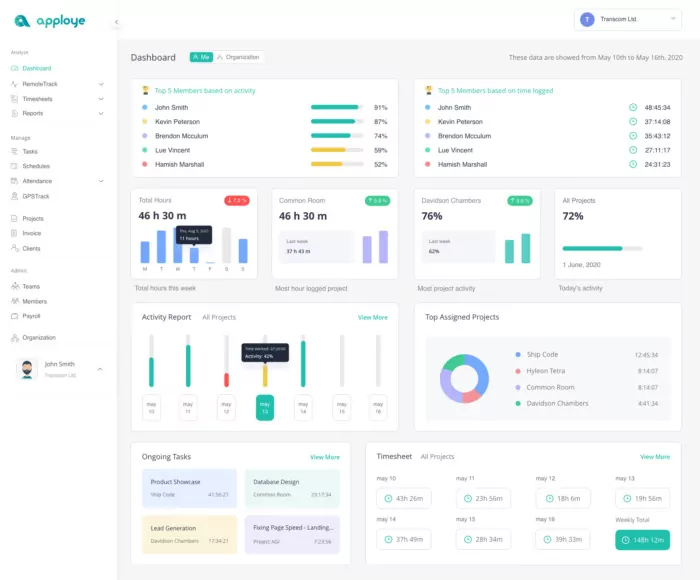 MinuteDock
MinuteDock is a simple and efficient time tracking service that is designed primarily for professional services and office-based teams. It works best with small to medium sized teams. MinuteDock integrates with popular accounting software services like Xero, Wave, and QuickBooks to sync client information and time tracked for smooth transference of data and a simplified billing process.
MinuteDock users can use the accounting integration feature to generate invoices based on time entries and sync through generated invoices to their accounting system for a simple, smooth, and easy workflow from starting their jobs through to billing their clients.
Pricing: Starts from $19 per month.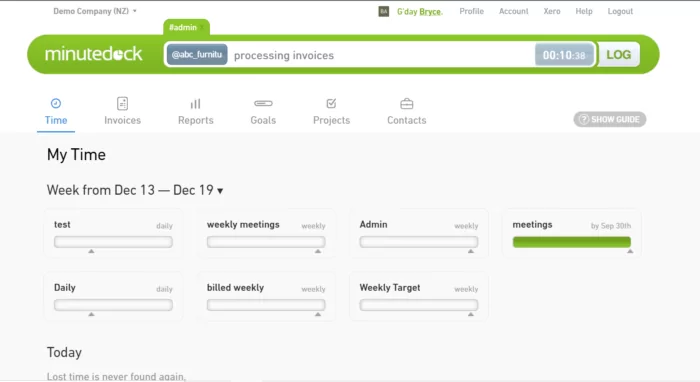 DeskTime
DeskTime is an all-in-one productivity tracking, shift scheduling, and invoicing tool for solo entrepreneurs and companies. With the help of DeskTime, you can follow your team's daily activity, better organize sick leaves, vacation days, and overtime, as well as get a clear overview of your workflow.
DeskTime offers informative productivity graphs and statistics for analyzing your own productivity, or the efficiency of the whole company, a certain team, or a certain employee. You can also see which are the most frequently used unproductive apps, as well as which parts of the day are the most (or least) productive.
The app is fully automatic; there's no need to log in every day, risking forgetting to clock in or clock out. Just switch on the computer and DeskTime starts working in the background.
Pricing: Limited free plan for 1 user, and the pro plan is $7 per user per month. Discounts are available for bigger teams and annual plans.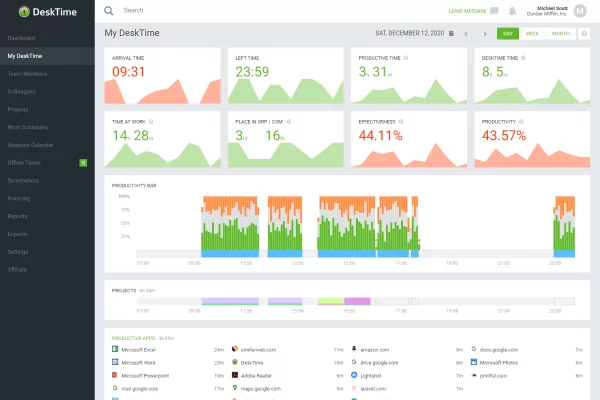 Time Analytics
Time Analytics is an online timesheet tool designed to help users keep track of billable and non-billable hours. The software allows time tracking per client, employee, task, and project, and improves the profitability of projects. Each of these components helps manage time and resources more accurately and increase productivity, profitability, and efficiency.
With this software, discover the time utilization rate for each employee, the most valuable clients, and more.
It takes every employee a few minutes a day to fill out the timesheet, thanks to a simple workflow and timesheet templates.
Time Analytics integrates with Microsoft Excel, making it a perfect invoicing assistant.
Pricing: Limited free plan for up to 5 users; Starter Plan for $4.99 per user per month; Optimum Plan for $6.99 per user per month; and Premium Plan for $12.99 per user per month.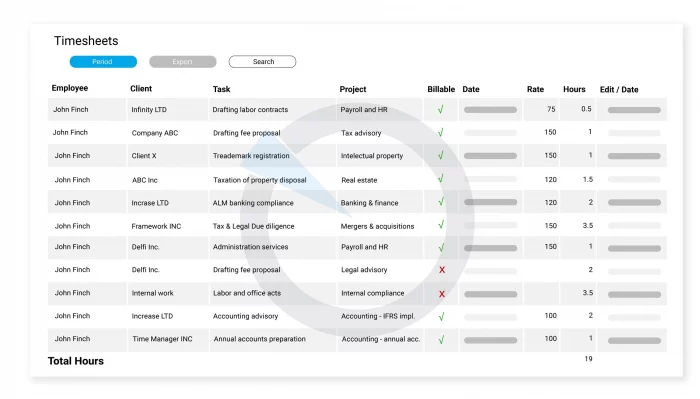 Workpuls
Workpuls is time tracking software designed for all types of teams—remote, in-office, and for many different industries. It lets employees track time on individual tasks within the project, allowing you to see the exact number of billable hours, as well as productive hours during the workday.
A neat feature is the Client Login option, which allows clients to log in to Workpuls and only see the data related to their projects. This feature allows for better transparency and ultimately improved client relationships. Additionally, Workpuls can serve as a productivity tracking tool, as well as the clock-in/out software.
Pricing: The cost is $8 per employee per month, or $6.40 per employee for annual payments. Special pricing is offered to enterprise clients.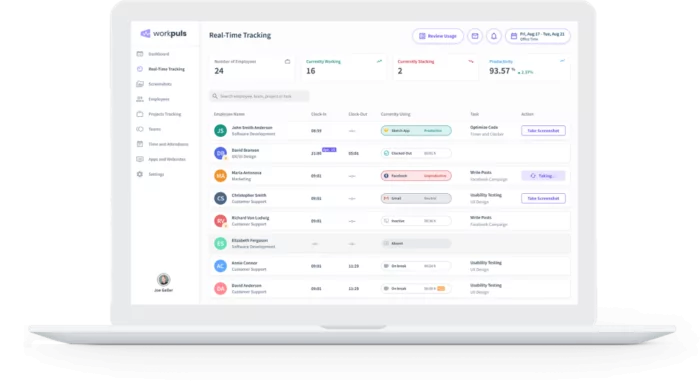 Calamari
Calamari is a people management solution that offers two modules: clock in / clock out and leave management. Users can subscribe to the individual module they need, or both. With the first module, employees can clock in and out using a variety of methods, including iBeacon technology, QR codes, their iOS and Android apps, or even via Slack. Track breaks, billable and non-billable hours, and time against projects. Managers are notified when employees modify or update time entries, and can easily approve or reject changes.
With leave management, automate PTO calculations and requests, as well as vacation and remote work. Synchronize time off requests with GSuite Calendar, Office 365, mobile apps, and other calendars using iCal feed. You can even set separate time-off policies for employees in different countries. Calamari is multilingual and compliant with the labor legislation in more than 70 countries.
Pricing: Leave management for $10 per month and clock in / clock out for $20 per month for the first 10 users. You can calculate costs based on team size on their website.
Intervals
Intervals is a time tracking and task management platform designed for small businesses. It is itself "a small business that knows the struggles small teams face managing projects, executing good work, and keeping track of your most precious resource…time." Their time tracking tool includes integrated task timers, weekly timesheet submission and approval, automated reminders, and a mobile app for Android and iOS.
Apart from tracking, Intervals also offers task and project management. View work history and notes for tasks, with daily task assignment via email, deliverable milestones, and drag and drop rescheduling. You can create personalized invoices including details on work done and automated overdue alerts. Businesses in over 100 countries are already using Intervals, including clients like Warner Bros, NBC Universal, and Ghiradelli Chocolate.
Pricing: They offer a range of plans starting from $29 per month up to $259 per month. Pricing depends on the number of active projects and additional features like document storage.
Elorus
Elorus is the perfect tool for freelancers and small businesses looking for time tracking and invoicing all in one place. Track billable and non-billable time for projects on a daily or weekly basis, and view timesheets by project, task, or assignee. With Elorus' browser extension you can also get an overview of who is currently working on what. What's more, with their client portal your customers can check project status, invoices, estimates, and view their transaction history. They can even make payments using a variety of integrated payment providers.
With Elorus, you can record expenses, set recurring expenses, and upload receipts and link them to projects. Finally, create professional looking and branded invoices in seven languages and any currency with automated, up to date exchange rates. Schedule recurring invoices and receive notifications when invoices have been viewed.
Pricing: Invoice up to 5 clients for free; $9 per month +$6 per user for invoicing up to 50 clients; $19 per month +$6 per user for up to 100 clients; $39 per month +$6 per user for unlimited clients.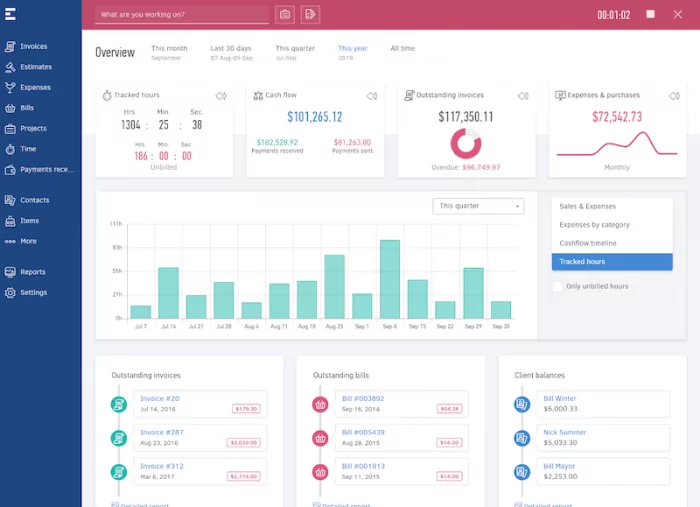 TimeDock
TimeDock is great if you are looking for a system for employees to clock in and out in person. This New Zealand based business offers swipe card mobile time tracking, ideal for employees in construction, agriculture, retail, hospitality, and more. You can use TimeDock's mobile application to scan ID cards on any mobile device, or have them send you a mountable TimeTablet.
With the TimeTablet, which comes with 30 programmable ID cards, administrators can add new jobs and activities online. Workers then swipe their cards to clock in and choose from the available list of activities. All data syncs with the online dashboard in real time, and can be integrated with more than a dozen payroll platforms. The tool offers exportable reports and timesheets, offline time tracking, and GPS tagging as well.
Pricing: $5 per active employee per month, or contact them for Enterprise pricing.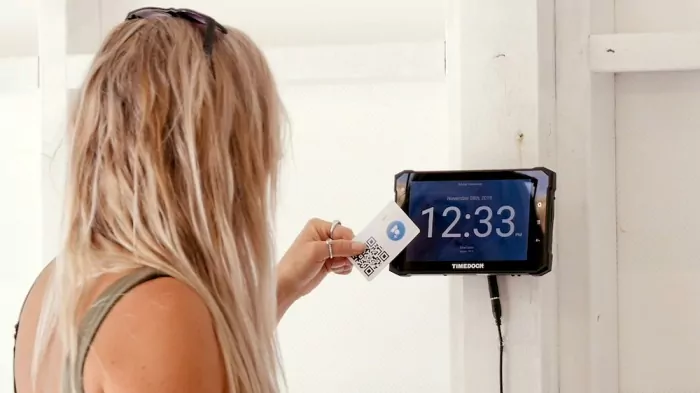 Jibble
Jibble is a time and attendance app that allows staff to clock in and out using mobile devices, Slack, or MS Teams. It can also be used with biometric facial recognition and GPS-location. Organizations in construction, manufacturing, retail, education, and office-based companies use Jibble for attendance, payroll, productivity, and client billing. Get daily, weekly, and monthly timesheets and employee statistics that can be used for performance reviews.
Depending on your needs, Jibble can be used as a mobile app with GPS tracking, a desktop app with automated screenshots, or a tablet kiosk where all employees clock in and out. Jibble does have a free basic plan, but with their Attendance Pro and Desktop Pro plans you can add "power-ups" like facial recognition, scheduling, geo-location, and project tracking.
Pricing: Free for Basic Plan; $2 per use per month for Attendance Pro; $4 per user per month for Desktop Pro.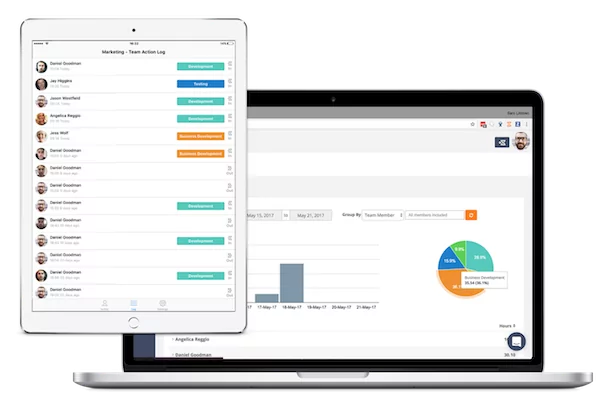 Hourly
Hourly is an Australian based time tracking app and analytics platform for small and medium sized businesses. Their mission is to make time tracking "more motivating, insightful, and actionable." The cloud based tool uses machine learning to produce outputs. In other words, it takes incoming time and expense data, identifies patterns and events, and uses them to predict working hours, identify incomplete timesheets, and create invoices.
Hourly helps team members stay on top of their timesheets by flagging incomplete entries or days without activity and sending automated reminders. View real-time reports and receive weekly email summaries with updates on budgets, billing, and productivity. Finally, create invoices with project breakdowns and the ability to attach timesheets to build trust with clients.
Pricing: $5 per month for a single user; $10 per user per month for small and medium teams and businesses; $30 per user per month for custom solutions for large businesses.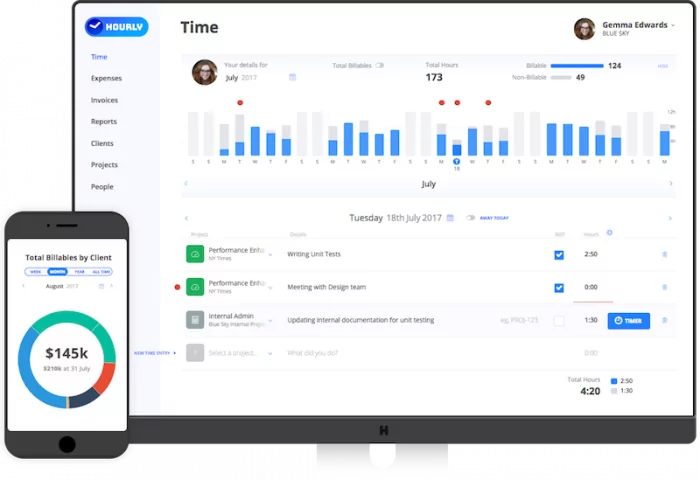 Still have questions about choosing the best time tracking app for your business? Leave us a comment or reach out at support@beebole.com.
—
Photo by Bruce Mars on Unsplash
Managing Inbound and Customer Success at Beebole. Connecting with teams and managers worldwide, identifying their obstacles, and communicating the creative solutions that Beebole can offer. Working remote from the Canary Islands.