In the last decade, remote working has been on the rise. Whether partially or on a full-time basis, the number of contractors and employees working from home or elsewhere has exploded. While companies are saving costs and professionals are gaining better lifestyles, the legal framework surrounding nontraditional professionals is still incipient.
Companies are "seeking to minimize the number of workers who must be treated fairly," argues an article by the Editorial Board of the New York Times. Employers like to hire contractors because they are cheaper compared to the cost of employees, but also because they don't need to cover the legal protections and benefits of regular employees.
This corporate attitude towards nontraditional work has affected the legal standards that regulate remote working. According to the 2018 Future Workforce Report by Upwork, a global freelancing website, in the United States "nearly two-thirds (63 percent) of companies today have remote workers, yet a majority lack remote work policies."
There is, indeed, a significant mismatch between the explosion of nontraditional work and the legal framework that should protect the rights of those working remotely. Let's take a look at the trends and legal issues affecting professionals and employees working from home.
What exactly is remote working?
It's important to note that the ability to work from home is just one aspect of a bigger universe: Flexible working. Flexible working includes any working arrangement that doesn't fit within the traditional nine-to-five job in an office.
When it comes to location, there is a significant number of professionals who use different kinds of solutions. The Global Workspace Survey produced by the Swiss serviced office provider IWG highlights this clearly. "Many types of workers are using various combinations of workplace solutions that include home working, business lounges, and remote offices, as well as traditional office locations, rather than espousing a single solution."
Similarly, research carried out by remoters.net found that "not all of the remote working professionals really want to be just traveling all the time, or working from home or a specific location, but need and want flexibility."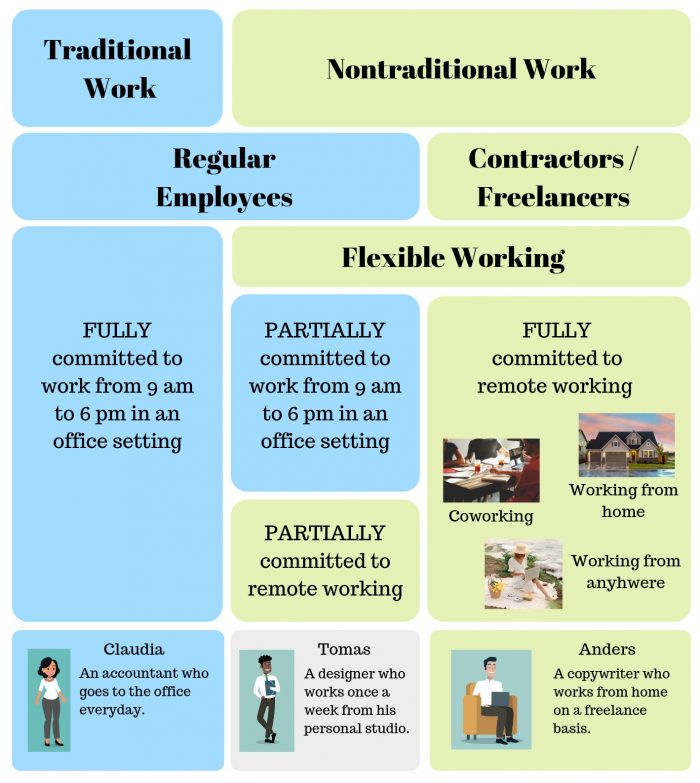 Remote working trends: The best thing since sliced bread?
Working from home is definitely trendy and on the rise. According to Fundera, in 2017 there were roughly 3.7 million employees worldwide working from home at least half the time.
Furthermore, remote working has become a favorite perk for both employees and companies. A recent infographic published by the digital company GO-Gulf as well as data from the Global Workspace Survey highlights that:
90% of remote workers plan on working remotely for the rest of their lives.
55% of managers agree that remote work among full-time employees is more common.
70% of professionals work remotely at least once a week.
Over half of employees globally are working outside of their main office for at least 2.5 days a week.
75% of professionals worldwide consider flexible working to be the new normal.
Today, more and more professionals are openly embracing remote working. Both employees and employers expect a future where remote working will be the new normal.
"The idea of commuting for hours to work 9-5 in a dreary office is fast becoming about as relevant as a fax machine in the working day."

Global Workspace Survey
Considering the above, is remote working the best thing since sliced bread? Companies are certainly saving money and increasing productivity while employees are achieving a better work-life balance. However, there is still a lot to do when it comes to the legal aspects of remote working.
Laws and legal issues for regular employees working from home
Before discussing the legal issues affecting those working from home, it's worth mentioning some of the legislation covering flexible working policies for regular employees. Let's see the summary provided by the Global Workspace Survey:
Netherlands: Employees with at least one year of service who work for a company of 10+ employees have the right to ask for a change, increase, or decrease in their working hours as well as the ability to work from another location.
Norway: The Working Environment Act establishes the right to flexible working hours if this can be arranged without major inconvenience to the employer.
Australia: The Australian Fair Work Act 2009 s.65, 144 and 202 allow employers and employees to make arrangements about working conditions that suit them.
UK: All employees that have worked for the same employer for at least 26 weeks may 'make a statutory application' for flexible working.
Italy: Law no. 81/2017 regulates "smart working" and establishes the equality of workers performing the same duties, even if done remotely.
Belgium: They use the recently approved Workable and Flexible Work Act to regulate teleworking.
Legislation like the above is encouraging. However, things are slightly different for independent contractors, freelancers, and people working from home who aren't regular employees.
The nascent legal framework surrounding contractors working remotely
In the last few years, various countries have begun to establish laws and legislation aimed at protecting and regulating remote working. Let's take a look at what some countries have been doing.
United States
In the US, the legal rights of professionals working from home depend on the place you call home. Generally speaking, however, "a client does not pay the same level of taxes (including Social Security, Medicare, and unemployment taxes) for an independent contractor as they do for a traditional employee." Also, as a freelancer or independent contractor working from home, you are not protected by the following:
Americans with Disabilities Act (ADA)
Age Discrimination Employment Act
Health & Safety Regulations
Title VII of the Civil Rights Act of 1964
In spite of that, some states have advanced important legislation regarding individuals working from home. For example, In 2017, New York City enacted the Freelance Isn't Free Act. This gives independent contractors "the right to a written contract, timely and full payment, and protection from retaliation." The law helps to protect freelancers from harassment or discrimination. Similarly, since 2000, California has strengthened its Fair Employment and Housing Act, which treats contractors as a protected class of workers.
UK
In the UK, all professionals have the right to some protections. However, the difference between regular employees and independent contractors or self-employed professionals is significant. According to an article published by the accounting firm Crunch, self-employed professionals in the UK don't have the right to the following:
Your client company's sick leave, company maternity pay, holiday pay, or company pension provisions. (Some freelancers may be 'workers' and are therefore entitled to holiday pay and pension contributions.)
The legal right to protection under your clients company's internal disciplinary and grievance schemes.
The legal right not to be dismissed. (Always, however, read the agreed upon contract of service, as this may contain clauses relating to termination of your agreement and time-periods.)
In spite of this, nontraditional workers in the UK still have some legal protections. For example, they are protected against discrimination and have the right to a safe and healthy work environment. Also, "Contractors working through employment agencies also have rights under the Conduct of Employment Agencies and Employment Business Regulations 2003."
Germany
If you are a contractor in Germany, you have two options: the Freiberufler (Freelance/Self-Employed) Model, or an Employed Model supported by a company that holds an AÜG Licence. The following are the main features of the Freiberufler Model:
Engagement occurs via a contract of services
Social Security is not provided
Because of the above, overall NET retention is higher
Under the Employed AÜG Model, a company holding a German labor leasing license hires the person. If this is the case, the individual enjoys the following:
A contract of employment
Deductions of wage tax and social security
Payments of holidays and sick days
Philippines
Developing nations have also put in place legislation regarding professionals working from home. The Philippines, for example, has implemented some of the strongest legislation aimed at protecting nontraditional workers.
Just recently, President Rodrigo Duterte signed an important law that institutionalizes the rights of private workers who work from home. According to the Telecommuting Act, "employers are required to give online workers the same rights, protections, and compensation as their counterparts who physically go to the office."
The future of remote working
As you can see, we live in a world where the job market looks a lot like an airplane. Permanent employees sit in first class while the rest of the crowd goes straight to economy. Of course, there are different levels of seats in this plane but for most passengers the ride is OK.
In our flexible working universe, companies are saving costs and improving productivity while employees improve their work-life balance. However, several factors including loopholes in remote work policies and legislation continue to challenge the positives. How governments and the private sector deal with this challenge will certainly be a much discussed topic for years to come.