Succeeding in the construction industry comes down to being smart, organized, quick and efficient. In addition to having a strong team and the right tools in place, technology also plays a big part. That's why we've compiled a list of the top apps for construction workers and contractors in 2020. From on-demand health and safety knowledge to aerial cameras and painless, paperless paperwork apps, this list covers the absolute must-have apps for construction workers in 2020.
2020 must-have apps for construction work
Here are our picks for the must-have apps for construction workers and contracts.
1. The app that makes forms & paperwork easy: GoCanvas
When you're on site, there's no easy way to predict which documents you need on the spot and when. Whether you need to document an inspection, work order, invoice or estimate, there's nothing like having a handy app to make it possible. GoCanvas, which allows you to use your own branding, offers easy-to-customize forms which can be created, stored and shared directly with coworkers and customers alike. It also makes things like signing invoices and processing payment in the field as easy as possible. Going paperless reduces waste while saving time, money, and resources, which are all reasons to give this app a try.
Features:
Drag-and-drop form builder
On-device signature capture
Built-in calculations function
Payment integration
GPS
Pricing: Starting at $45 annually
App links:
Google Play
Apple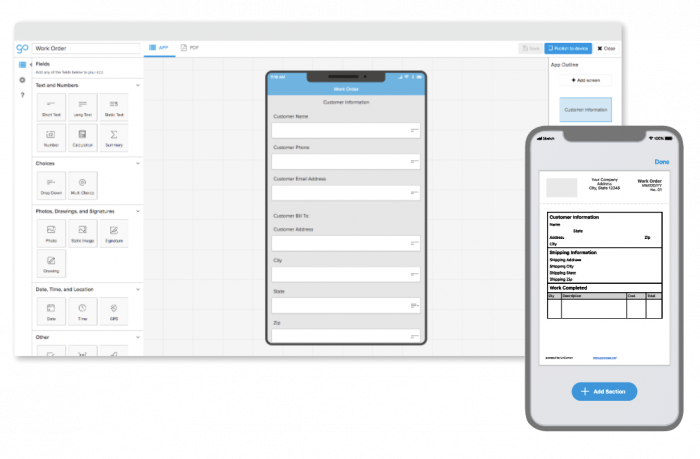 2. The app for field reports, punch lists, and collaboration: ArchiSnapper
Drafting field reports from site visits can be a hassle when you're not equipped with the right resources. ArchiSnapper is a simple tool that allows you to use your smartphone or tablet on-site to draft reports with text, photos, assignees, and annotations on floor plans. Then, once you're back on the office, you can pull up the field report or punch list directly from your online account (on your desktop) to edit and distribute. No more struggling with Word or Excel to draft field reports!
Features:
Direct annotation on photos or drawings on your device
Easy access to drawings from any device—Web, iOS, and Android
Professional, clean PDF reports in seconds
Automatic report layout and observation numbering
Easy collaboration with (sub)contractors or with colleagues on the same account
Pricing: Starting at $24/month, and $14/month per additional user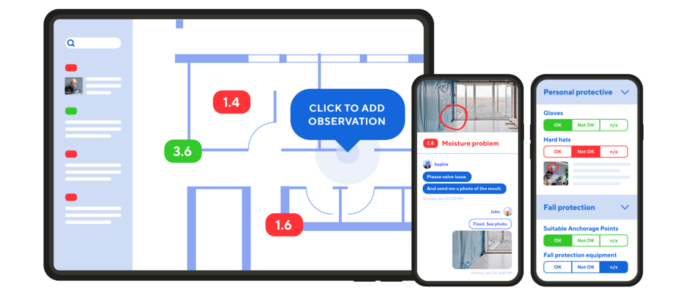 3. The app for on-the-spot health & safety protocol information: First Aid – IFRC
No matter how careful you are, accidents happen. And on construction sites, those accidents can be a matter of life or death. This free app gives users instant access to useful information, step-by-step tutorials and videos regarding every-day first-aid scenarios. The app's information is all pre-loaded, which means connected or not, you'll have access to it. Although it's tough to think about the worst-case scenarios at a construction site, it's important to plan for them. Apart from having this app downloaded in case of an emergency, it's also a great training tool. The more safety knowledge your team has, the better.
Features:
Step-by-step instructions through various scenarios
Videos & animations for clearer explanations
No internet or data connection necessary to access
Integrated with emergency numbers worldwide
Pricing: Free
App links:
Google Play
Apple
4. The app for drone mapping + taking the best aerial shots: DroneDeploy – Mapping for DJI
When it comes to aerial imaging and mapping, DroneDeploy is an industry go-to. This cloud-based software allows you to create accurate high-resolution maps, reports and 3-D models, as well as real-time 2-D live maps, all of which lead to better in-depth analysis. It connects to most well-known drones on the market. Plus, its easy-to-use interface makes it accessible for anyone. You'll be able to capture the aerial shots crucial for planning. The data collected with DroneDeploy allows you to not only collect aerial data but also then analyze it, giving you a better understanding of what's happening over the time span of an entire project.
Features:
Secure drone data
Complete data capture (photos, maps, videos & panoramas)
Real-time results + live-map capabilities
Compatible with most popular drones
Automatic and manual flight options
Pricing: Starting at $299/month
App links:
Google Play
Apple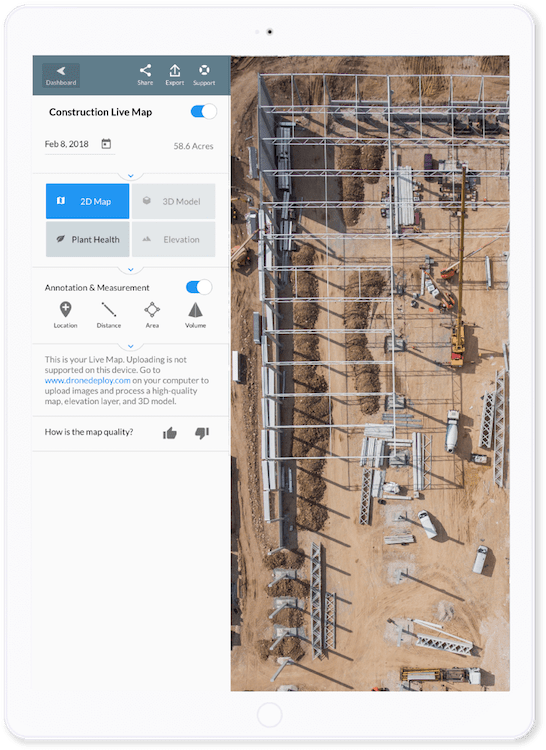 5. The app for time tracking & business intelligence: Beebole
Internet connection or not, Beebole allows your team to clock in and out while on site—once connected again, the app will automatically sync. Knowing where your team's time is going is crucial to running a smooth operation. With Beebole, you can easily analyze how many hours have been worked, the number of billable hours, which projects are over or under budget, and much more. The tracking app couldn't be simpler for your full-time employees or contracted team, and it gives managers and supervisors instant access to real-time data and business intelligence, both of which inform better day-to-day decisions.
Features:
Employee mobile app works offline
Multilingual with 8 different options
DCAA & GDPR compliant
Manual, weekly & monthly employee time entries
Billing costs with multiple currencies
Pricing: $6.99 per person, per month, with the ability to add as many projects and customers as you like. There's a 30-day free trial, no credit card required.
App links:
Google Play
Apple

6. The app to keep track of the weather: Accuweather
There are so many moving pieces to keep track of when building or managing a construction site, it's easy to overlook the weather. But adverse weather conditions can make or break a day's work, making it all the more important to have an eye on it. Their ad-free paid version of the app offers real-time alerts and severe weather warnings, as well as a detailed daily temperature report. You can set up the app to see the information most important to you and your team, as well as get a forecast for up to 15 days in advance.
Features:
Customizable weather reports
Minute-by-minute live weather updates
15-day forecast
Severe weather warnings & alerts
Pricing: Free, or ad-free for $2.99
App links:
Google Play
Apple
7. The app for all-in-one, on-the-field management: Procore
When you're on site, it's not always feasible to have a laptop in hand. That's where this app, which helps you manage all-things construction site related, comes in. Procore is a cloud-based software for construction project management, quality & safety, design coordination, and BIM. You and your team will be able to keep projects moving at all times with instant access to drawings, daily logs, RFIs, submittals, progress photos, meeting notes and more. It also allows for easy communication and collaboration within the team with features like a site diary and digital records of team meetings.
Features:
Team directory, document hub & site diary
Schedule
RFI software
Quality and safety tools like incidents reporting
Snag list software
BIM tools for models, reports and more
Pricing: Starting at $375/month
App links:
Google Play
Apple
8. The app for managing a punch list and collaborating on a drawings & blueprints: PlanGrid
PlanGrid makes it easy for you and everyone on your team to have things like markups, photos and punch lists within reach. With this software, you and your team can mark plans directly with any notes or photos right from the field. You can also highlight issues that will be sent straight to a punch list, and hyperlink important documents like RFIs or specs. PlanGrid makes collaboration easier, helps solve issues quicker and makes sure the entire team is on the same page, no matter where they are.
Features:
Interactive, collaborate blueprints
Easy-to-create and manage punch lists
Sheet compare to overlay different versions of blueprints
Revision history
BIM functionality
Pricing: Starting at $39 per user monthly
App links:
Google Play
Apple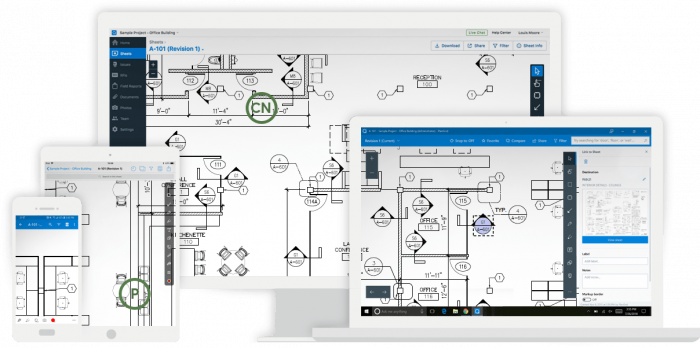 9. The app for for accurate on-site calculations & measurements: DeWalt Mobile Pro
This app was designed specifically for construction professionals and features both a construction and scientific calculator. The free version comes with calculator templates for area, length and volume, in addition to functions for estimating studs, drywall and concrete slabs. For more advanced projects, there are in-app purchases related to carpentry, concrete, business math, finish materials, trim work, landscaping, site work and more. If you need to calculate something on-site or even double check previous measurements quickly, this is the app you want to have in your pocket.
Features:
Area, length & volume conversions
Area & volume shape math
Decimal and fractional capabilities
Calculation history with fast recall
Powerful calculating in-app purchases
Pricing: Free, with in-app purchases
App links:
Google Play
Apple
10. The app to organize daily reports & documentation: Site Diary
Instead of filling out your diary at the end of the day, Site Diary allows you to do so on the go with helpful functions like adding unlimited photos, times and locations. This app saves users time by automating the process of recording diaries. You can save an entry and update it later, and completed tasks are automatically added to the diary. Each entry even automatically records the current weather. Having these records all in one place makes it easier for you to monitor and analyze them, as well as share with the rest of the team.
Features:
Detailed records safely stored
Search & filter old entries
Real-time sharing of progress and issues
Easy-to-use mobile app for on-site workers
Export to PDF, CSV and Excel
Pricing: £8 per user, per month
App links:
Google Play
Apple
We'd love to know which apps you're using and if you think we're missing any. Please let us know in the comments.
—
Photo by Scott Blake on Unsplash