These Apps Killed Workforce Management Software
Indeed. Cloud-based alternatives are helping Chief Officers and Project Managers by offering innovative ways to track time, review progress, onboard employees, and manage budget. Although there are all-in-one workforce management tools like Kronos and Bitrix 24, the fact of the matter is that many companies are turning to best-of-breed apps for these tasks. This is especially true as companies realize the importance of software modernization and decide to invest in upgrading their solutions.
Web-based workforce management apps: our hand-picked selection
Here are some workforce management apps that are killing old-school software. We've selected several for each typical C-level or project manager responsibility.
Scheduling apps for companies
Back in the day (and even today in some offices), companies relied on sheets of paper for scheduling. Paper is certainly less than ideal for this task. Although spreadsheets have helped significantly, it's worth checking out these cloud-based tools.
When I Work helps with employee scheduling and has some cool perks to boot! They allow employees to "clock in" using their mobile device and optimize scheduling for managers. Their clients range from coffee shops and retail stores to hospitals and universities.
Similarly, Resource Guru creates what they call a "clever calendar" that shows who is scheduled to work and when. They also allow you to schedule your vacation time or sick leave, and they collect and present insights in customizable reports.
Employee Onboarding Apps
Bringing new employees on board is tough both for the company and for the employee. A huge amount of information is shared and many aspects are covered. For simpler onboarding, managing employee records, and tracking vacation time, BambooHR promises to be your go-to app. They save a lot of time for both HR departments and employees by quickly handling request approvals and helping to generate reports.
Another option mostly targeted to employee onboarding is WhatFix. They offer interactive guides and the opportunity to create personalized onboarding programs. This service could work wonders not only for employees, but also for outsourcing volunteers and bringing them onboard.
Apps for business expense management
Whether we like them or not, business trips are part of work life for many. Work related travel comes with costs, and someone needs to keep track of them. Budget spent on flights, company meals, and accommodation needs to be carefully tracked. Expensify lets companies set up policy rules for these types of expenditures, and includes a receipt scanning feature for mobile. The tool is intended to automate expense reporting all the way to reimbursement.
On the other hand, Xpenditure strives to make expense reports completely paperless, while also introducing seamless integrations with popular apps. You have the option of receipt scanning along with per diem and mileage tracking. Yes, it calculates distances using Google Maps and adjusts the rate so employees can get reimbursed. Cool!
Performance Management Apps
We all want to meet our KPIs, and that means continuously tracking progress. Performance Management tools offer a visual way to make sure progress is aligned with your team's goals. It's great to keep yourself accountable and see how far or close you are to reaching benchmarks. For this, we recommend two easy-to-use and nicely designed tools. The first, Betterworks, offers a way to set up your OKR's (Objectives and Key Results) for each quarter, periodically check progress, and give or receive feedback. They also have an Annual Review option where you can assess your performance during the year.
However, if your company culture stands out and you want it to show, then maybe PeopleGoal is a better fit. It is fully customizable and huge in integrations; you can use it with your BambooHR, Slack, Dropbox, and LinkedIn accounts. A cool feature worth highlighting is "Social Recognition", which makes it easy to up-vote and send kudos to well-performing employees.
Business Intelligence & Time Tracking Apps
You knew this one was coming! We wholeheartedly believe in knowing where your time goes. So we couldn't ignore business intelligence & time tracking and the wonders it does for workforce management. There are many tools out there, but we think Beebole will impress you.
Don't take our word for it. Beebole was recently named a Top 10 Workforce Management Solution in 2019 by HR Tech Outlook Magazine. In an interview with CEO Yves Hiernaux, the magazine highlights its outstanding features, like the permissions and approvals capabilities, customizable reports, top-notch security, and agile 24/7 customer support. Beebole can help you discover which tasks are taking up the most time in a no-hassle, simple format. What's more, you can try all of Beebole's feature totally free for 30-days with no commitments. We trust your workforce will be optimized by knowing exactly where your efforts (and dollars) are going!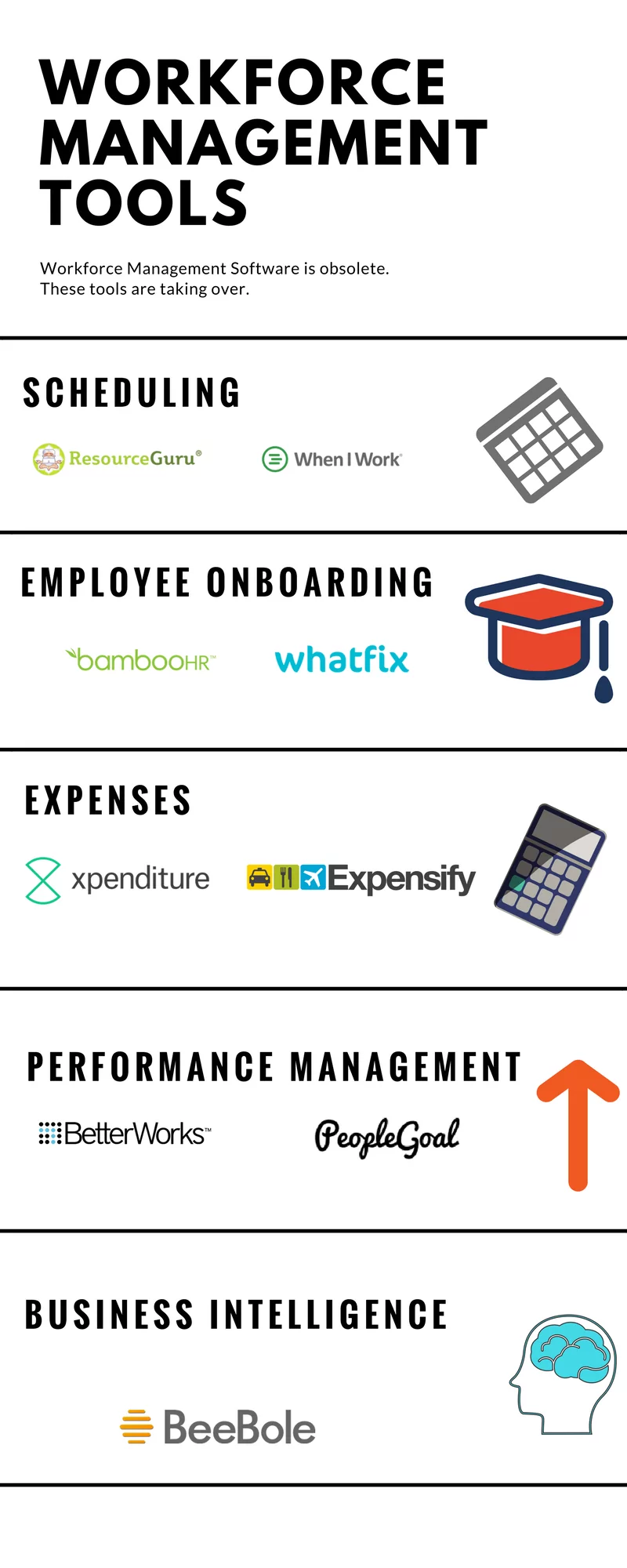 In hindsight, workforce management tools come in all shapes and formats to serve your business needs. Let us know if you've used any of these solutions and found them useful.
Did I fail to mention one you think should be on this list? Leave it in the comments below!
Magda is Customer Success Manager at
Beebole
. When she's not at work, she's probably traveling and enjoying time with her family.