Google spreadsheet timesheet: an add-on to create incredible employee time reports

Our Google spreadsheet timesheet add-on is perfect if you want to create more powerful employee time reports. Why? Real time business intelligence is fundamental for any organization, whether monitoring its financial status or employee productivity. Frequent, reliable reports offer short-term insights that can lead to long-term savings and growth.
To help with this, Google Sheets makes it easy to organize and analyze your business intelligence and financial data in one place. You can use our free Google Sheets add-on to enhance your employee time reports in real time. Read on to learn more about the benefits of taking analysis to the next level.
–
By the way, if you prefer Excel, we've got you covered with Beebole's Microsoft Excel add-in. Get the add-in here and follow this tutorial to learn how to install and use it.
–
How real companies are using timesheets with Google Spreadsheets
Given that automation, AI, real time analytics, data management, and cloud integration are some of the top tech trends, we thought the value of offering a Google Sheet add-on for timesheet data was evident. Several companies are using our timesheet add-on for Google Sheets, and their experiences have taught us even more about its functionality and benefits. Let's take R.R. Donnelley, a Fortune 500 providing multichannel marketing and business communications: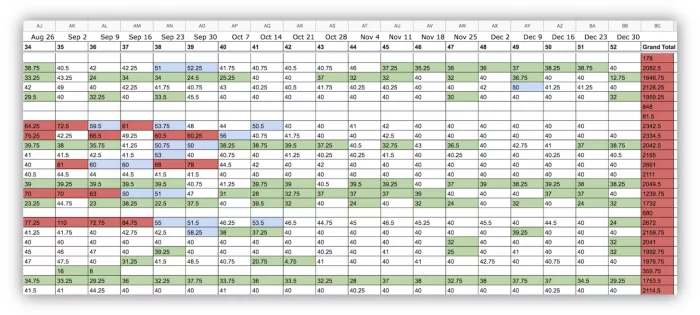 With our timesheet add-on, R.R. Donnelley exports their time tracking data from Beebole to this Google spreadsheet, and uses conditional formatting to monitor BOO, or burn out opportunity. This allows them to quickly identify workload trends throughout the year. For example, employees working 41-59 hours a week are highlighted in blue, which becomes red once an employee goes over 60 hours/week. Furthermore, via Google Sheets the report is linked to and used by other financial reporting.
"Beebole with the Google Sheets add-on is the foundation of our financial reports," explains R.R. Donnelley business analyst Toni Thordarson. "The figures we are able to derive from Beebole allow us to speak with certainty to corporate management regarding all data points we track (billable vs. non-billable hours, missed recovery opportunities, actual total recovery, and so on)."
Other companies are using our timesheet add-on to create consolidated expense reports. For example, employee or project costs and budget data from Beebole can easily be merged with other expenses, such as equipment or travel costs. These comprehensive, up to date expense reports are essential for keeping a finger on the financial pulse of your organization.
Crucial to accurately calculating costs is encouraging employees to turn in their timesheets and keeping track of employee overtime. This can be difficult to do with most available software, as local laws and specific company policies may differ. Are Saturday hours overtime? What about hours being "made up" from a previous shift? With the Google Sheets add-on you can import time tracking data from your Beebole account and create a personalized overtime report that fits your company's specific needs and policies.
By the way, if this post is proving useful, you might also want to check out this tutorial on how to take your reporting to the next level in Google Sheets.
5 things you can do with your timesheet data in Google Sheets
1. Backup your data
Beebole is already secure…really secure. We use 256 bit encryption, run 8 hour backups, and have 99.9% uptime. Even so, Google Sheets can serve as an additional, reliable backup for your employees' time tracking data. Sheets can also be accessed offline and via their Android and iOS apps.
2. Take analysis to the next level
With Google Sheets, you can create pivot tables, insert specific calculations, and add more graphs and charts to build the perfect report to fit your needs. Use familiar functions, like VLOOKUP or SUMIFS, and functions unique to Sheets, like FILTER, QUERY, and GOOGLEFINANCE. While Beebole does offer lots of configurable time and cost reports and graphs, the Google AI and Explore option will suggest and create charts for you, or answer questions based on natural language processing. Fancy.
3. Automate sharing timesheet reports
Google Sheets allows add-ons to schedule automatic emails to share updated reports with specific recipients, so that's what we did with our timesheet add-on. Save time while improving communication with colleagues and clients. To schedule emails with your timesheet reports, just select the Schedule & send report option in the add-on. Choose the period to run a report for, when to run it, and enter your recipients' emails and a subject line.
4. Bring business intelligence together
By using an add-on like ours on Google Sheets, you can link your Beebole timesheet data with other sources that connect with Google Sheets, like Google Data Studio, BigQuery, or whichever business intelligence platform your company uses. You can use connectivity services like IFTTT and Zapier to connect a variety of tools. Then, use IMPORTRANGE to compare, contrast, and play with data from other spreadsheets.
5. Collaborate with confidence
Invite collaborators to work together on the same spreadsheet in real time. You can prevent certain information from being edited, such as individual cells or whole spreadsheets. Set permissions to control who can view, edit or comment, and disable options to download, copy or print. Finally, you won't have to worry about mistakes or version control, as in Google Sheets you can view changes and revert to previous versions in the Version History.
How to connect your time tracking data to Google Spreadsheets
Our Beebole add-on for Google Sheets is incredibly easy to add to your Google domain. From your Google Spreadsheet, just click on Add-ons >> Get add-ons and search for Beebole. Click to install and the add-on will become available in any Google spreadsheet moving forward. To fetch data, retrieve your unique API token and assign it to your report.
Don't have a BeeBole Timesheet account yet?
Once you're ready to export data from Beebole, you will be able to:
Select by custom date ranges.
Get working time and absences.
Export hours by status: draft, submitted, approved, rejected, and locked.
Get data by project, tasks, and people.
Export all Beebole reports data into the spreadsheet.
Automatically refresh & email reports to multiple recipients.
Pretty easy, right? But, if you do have questions you can read more about the add-on in Beebole's help documentation.
There you have it! Click below to begin creating customizable, real time reports on productivity, finance, or whatever your business needs to continue to grow with our timesheet add-on for Google Sheets!
Managing Inbound and Customer Success at Beebole. Connecting with teams and managers worldwide, identifying their obstacles, and communicating the creative solutions that Beebole can offer. Working remote from the Canary Islands.