If you think that Business Intelligence is something only relevant and accessible to big companies with IT departments or teams of data analysts, you are missing the whole point of Business Intelligence. Business Intelligence has nothing to do with size. Instead, it's about improving your decision making processes.
There's really no excuse for not wanting to incorporate BI into your organization. Today's Business Intelligence software is becoming standard, more accessible, more affordable, and much easier to learn. So, what are you waiting for?
Why companies (of all sizes) need Business Intelligence technology
Apart from improving your decision making processes, there are many powerful reasons that justify an investment in this kind of technology. Let's see how BI can help you run a smart company.
Business Intelligence can:
Help you make sense of the data your business collects.
Uncover and reveal problems, patterns, and opportunities.
Improve your forecasting and tracking processes.
Optimize your business operations.
Help you move faster and more accurately.
Enable users to generate actionable business insights.
Allow you to stay competitive in the market.
Save you money and eliminates inefficiencies.
Create a common vision for everybody in the organization.
While these advantages are general, Business Intelligence addresses different areas in very specific ways. Let's see how Business Intelligence software improves the following key business areas: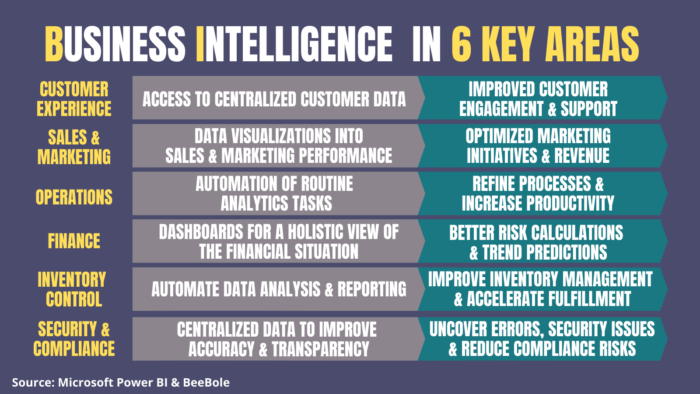 Top Business Intelligence Tools and Types
Before we take a look at the best Business Intelligence tools for your business, it is important to get familiar with the large variety of BI software that is available in the market. The following list provides an overview of the kind of technology and Business Intelligence solutions provided by today's top BI tools:
Digital dashboards
Data visualization software
Reporting and querying software
Online Analytical Processing (OLAP) tools
Self Service Business Intelligence
Cloud / SaaS / Business Intelligence Software
Mobile BI software
Embedded BI software
ETL (Extract, Transform and Load) software
Self Service Data Preparation Software
Data mining tools
Data warehousing tools
Decision intelligence
Business performance management
Unified Modeling Language
Local information systems
While some of this technology is self-explanatory, we anticipate that a few of the terms we just mentioned may be new for you. Because of this, we would like to clarify some of them with the following brief glossary.
Business Intelligence Glossary
Cloud / SaaS / BI Software: A delivery model that allows companies to use Business Intelligence tools without the need for installing, operating and/or maintaining such tools on site. This technology is usually a subscription-based service.
Data mining: A process aimed at discovering and extracting patterns from large amounts of data.
Data warehousing: A process of putting together and organizing big sets of data into one common place.
Embedded BI software: A process that incorporates BI software features such as data visualizations and dashboard reporting into an application.
ETL software: Software used to combine, clean and profile data from various sources.
OLAP: Software that enables multidimensional analysis at high speeds on large volumes of data.
Self Service Business Intelligence: An approach that allows business users to access and analyze data without the support from IT experts.
Self Service Data Preparation Software: Software that allows businesses to prepare and clean data without the need of IT support.
Unified Modeling Language: A visual language that is used by IT experts to define the behavior and structure of a system.
It's important to note that most of the tools we are about to discuss in the next section combine several of the features we've highlighted. For instance, a platform such as Microsoft Power BI offers dashboards, reporting software, and mobile BI software, among other Business Intelligence capabilities.
Best Business Intelligence Tools and Solutions
Choosing the right Business Intelligence software is something that depends on the needs of your business. Are you looking for a Business Intelligence software empowered with interactive data visualizations, or are you looking for a tool that allows you to implement well-detailed financial data analysis?
While each business' needs are diverse and unique, there are some Business Intelligence tools that are very effective across a large number of industries and fields. Let's take a look at the top 10 Business Intelligence tools every company needs to know about. For each BI tool, we'll provide a short introduction followed by a list of pros and cons, as well as a summary of a successful case.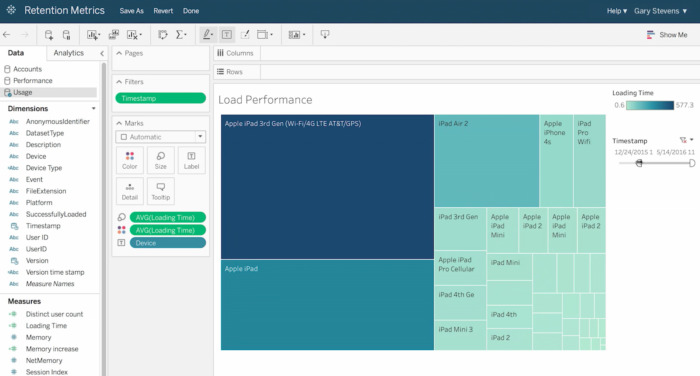 When it comes to data visualization and analytics, it is hard to find a better alternative than Tableau. In fact, Tableau is a Business Intelligence platform that is widely embraced for its wide variety of features, including visualizations, dashboard and reports. This Business Intelligence software is one of the best on the market because it is both powerful and intuitive.
Pros:
Easy to use
Great flexibility in terms of visualizations
Intuitive data analytics experience
High level of usability thanks to an intuitive interface
Cons:
Expensive when compared to other Business Intelligence solutions
Lack of cloud-native architecture for on-premises customers
The Allrecipes case:
As the world's largest digital food brand with a community of 85 million cooks worldwide, Allrecipes knows how important it is to manage data properly. Thanks to Tableau, "Allrecipes can understand every stage of the customer journey. From analyzing web analytics to tracking content engagement, visual analysis allows them to spot and stay on top of emerging trends. Visibility into customer and web analytics helps Allrecipes reach dominant audiences like millennials, establishing a competitive advantage in the digital landscape."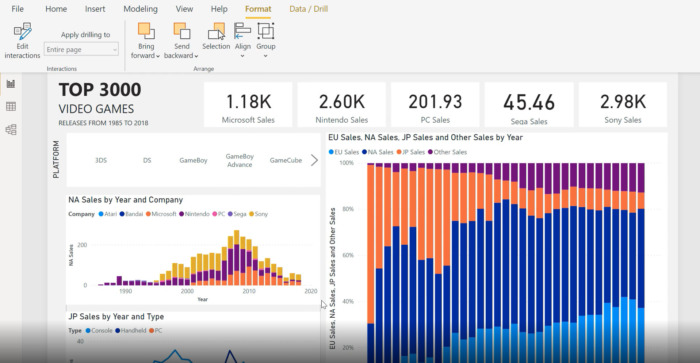 If you and your team work with Microsoft products like Office, SharePoint and SQL server, this is one of the top Business Intelligence solutions you may want to consider for your business.
Microsoft Power BI offers data preparation, visual-based data discovery, interactive business dashboards and augmented analytics. Apart from that, one of its distinctive advantages relies on the fact that this BI tool is available both as a SaaS option (via the Azure cloud) or as an on-premises option.
Pros:
Top visualization capabilities (including real time visualizations)
Integrated with Microsoft products
Access on web and mobile devices
Convenient price
A product with an ambitious scope towards the future
Cons:
The on-premise offering doesn't provide the Business Intelligence capabilities of the cloud solution.
Limited to Azure
Limited customization
The Wonderful Company case:
The Wonderful Company had several problems regarding data management especially because every department was using its own reporting tools and business data was simply disconnected. Thanks to Power BI, the company was able to add more data sources, deliver more KPIs and implement dashboards that were capable of simplifying and breaking down data.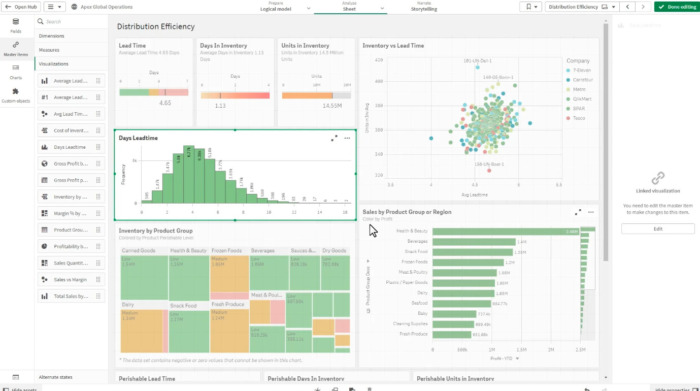 Qlik is one of the most well known names in the Business Intelligence universe. In particular, its lead ABI solution, Qlik Sense, is a popular data analytics platform tool that is enhanced by the power of artificial intelligence.
Pros:
Easy to use in terms of reporting and data visualizations
Ability to connect to multiple data sources
Cons:
Limited chart customization
Some functions (analytics) are not easy for non-technical users
Can be an expensive option
The overall range of Qlik products is not cohesive
The Aramark case:
This gigantic food, facilities, and uniform services provider has taken advantage of Qlik Sense's artificial intelligence capabilities to run a more effective business. For instance, Qlik Sense has allowed Aramark to reduce overtime hours and food waste while improving its forecasting capabilities.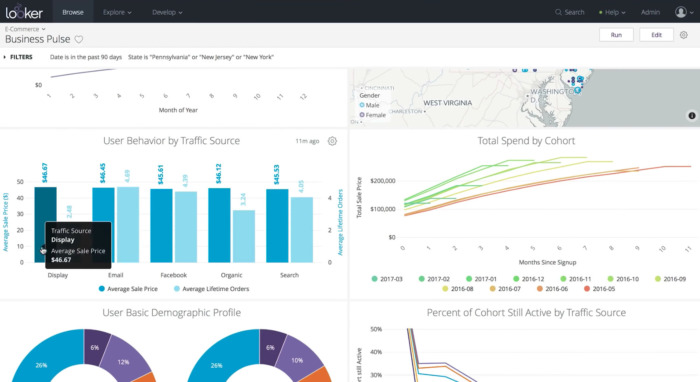 Since its acquisition, Looker has become Google's main bet in the Business Intelligence universe. This BI software is well known for its Business Intelligence reporting tools and dashboard capabilities.
Pros:
Easy to use dashboards and reports
Convenient drag and drop dashboard creation
Good customer support
Cons:
Some functions are designed for technical users (data modeling)
It doesn't offer important Business Intelligence capabilities such as AI and augmented analytics experiences
Limited presence outside the U.S., Europe and Japan
The Get Your Guide case:
With more than 15 millions users per month, Get Your Guide is the largest platform for booking travel experiences. Thanks to the adoption of Looker, the company was able to establish a data-driven approach to business that ended up improving the performance of all the different teams within the organization, as well as the user experience.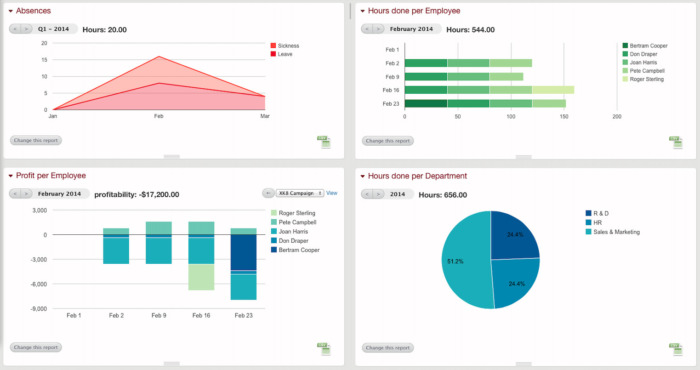 If you are looking for simplicity, a tool like Beebole may be just what you want. Their project time tracking solution is also a surprisingly powerful Business Intelligence tool, offering customizable KPI dashboards and reports that you can build to make smarter business decisions.
Pros:
Simple and intuitive
Offers a mobile app that works offline
Economical
Cons:
The Cloud Perspective case:
This data consultancy has been using Beebole to record the working time of its consultants. However, Beebole's impact on the organization has gone far beyond that. "I love the ability to look at the productivity of individuals or the entire business, and the fact that the data is readily available in graphs, tables, charts, etc. And that through the export and API I can download the raw data for analysis," states Miranda Pocock, founder of the company.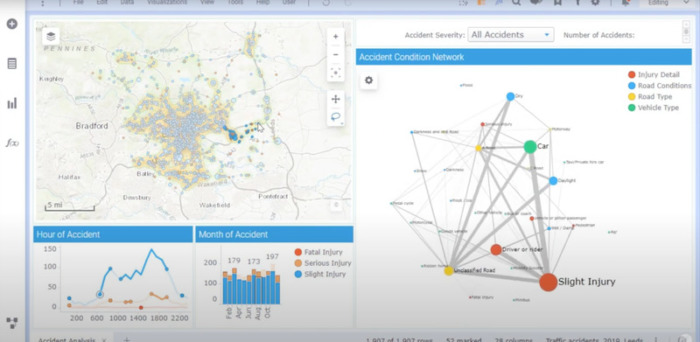 Thanks to its capability to process large amounts of data, this Business Intelligence tool is one of the best data discovery and interactive visualization tools in the market. Because of that, Tibco Spotfire is an ideal tool for data-intensive organizations looking to implement advanced analytics and identify critical insights.
Pros:
Very good for complex and advanced analytics and data models
High scalability
Scripting language support
Cons:
Not very popular when compared to competitors
User interface is a bit different from the market standards, which affects the learning curve
Expensive and limited in terms of contract flexibility
The Aeroporti di Roma case:
The adoption of Tibco by the Fiumicino Airport in Rome has played a crucial role in the business performance of this hub even during the pandemic. "Like many other businesses managing the economic impact of the pandemic, cutting costs is top of mind for driving profitability. With TIBCO, the airport was able to analyze which areas of the airport should stay open and which should close for maximum safety, customer satisfaction, and operating efficiency. These analyses led to Aeroporti di Roma to reduce nearly 40 percent of its day-to-day operating costs while continuing to provide a high-quality passenger experience."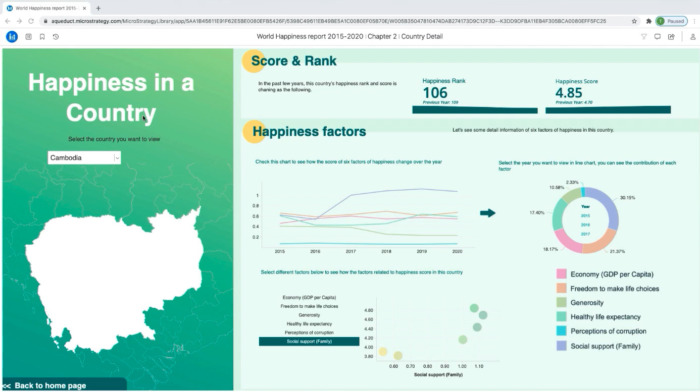 MicroStrategys is a business analytics software that enables users to build self-service dashboards, create highly-formatted reporting, and perform sophisticated data analysis. Apart from its visualization capabilities, MicroStrategy also supports data mining.
Pros:
Outstanding Business Intelligence reporting
Good technical support
Drag and drop canvas for visualizations
High stability and security level
Cons:
Technical knowledge necessary
Dashboard creation not as intuitive as other tools on the market.
Lacks Natural Language Generation (NLG) and automated insights
The Pfizer case:
Before adopting MicroStrategy, Pfizer had two big problems in terms of Business Intelligence: speed and consistency. Thanks to the partnership they created with MicroStrategy, Pfizer was able to put together a suite of tools that enable everyone in the organization to work around a consistent database. Along those lines, everyone was empowered to create reports and interactive business dashboards aimed at meeting their most specific needs.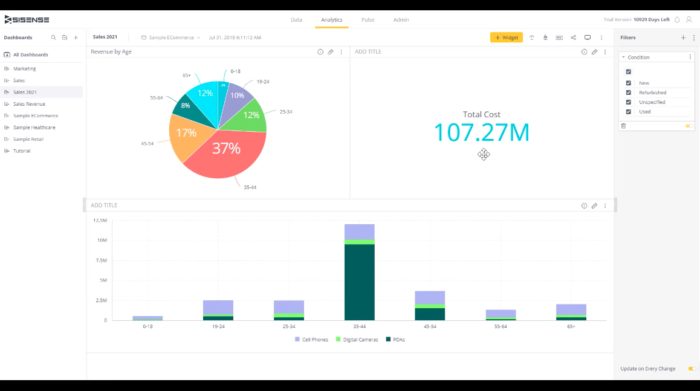 In recent years, Sisense has gained popularity in the market not only because it is an easy-to-use Business Intelligence software, but also because of its ability to integrate multiple data sources. Because of this, Sisense is an ideal tool to use with complex data projects. Data preparation, visual exploration and augmented analytics are some of Sisense's strongest Business Intelligence capabilities.
Pros:
Easy to create dashboards
Solid cloud and NLQ capabilities
Multi-cloud capable
Cons:
Not as popular as other Business Intelligence platforms on the market
Limited mobile capabilities
Lack of flexibility in terms of admin permissions
Complex product packaging
Focused on the development ecosystem rather than consumers
The CTSI case:
Every day, CTSI, a freight audit and payment services provider, processes between two and four million of freight invoices. Because of that, CTSI was looking for a Business Intelligence tool that was able to provide its customers with a good view of their transactions. They opted for Sisense because of how easy it is to implement and embed in their TMS application. Plus, customers are able to create their own dashboards providing CTSI with valuable information regarding its own customers.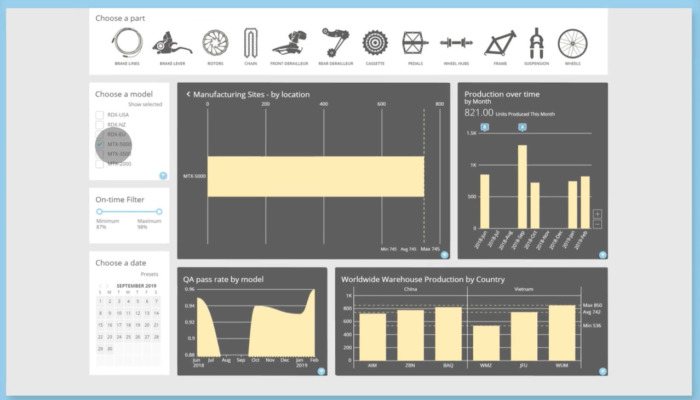 This self-service, cloud-based business intelligence tool provides data analysis, insights, and predictive analytics in a very intuitive way. In fact, you don't need to be an expert if you want to customize visualizations and build dashboards. Domo is a powerful tool that provides various Business Intelligence capabilities ranging from data warehouse and ETL to visualizations and reports.
Pros:
Easy to use and focused on consumer design
Ongoing dramatic growth on the market since 2019
Fast connectivity to enterprise applications
Cons:
Lacks own application ecosystems and cloud platforms
Limited in terms of geographic presence
Not the best price on the market
The Traveloka case:
Like many businesses, this app was heavily hit by the pandemic. However, that didn't mean that work slowed down. On the contrary, the team was busier than ever trying to cope with cancelations, refunds and reschedules.
At this particular moment, the company used Domo to track key customer metrics, balance the workload of various teams across the organization, and carry out contribution and cluster analysis. "With Domo, we were able to make fast, accurate decisions while managing a 10x increase in traffic to our customer care team without adding resources," said Gumarus Dharmawan William, Traveloka's Product Manager.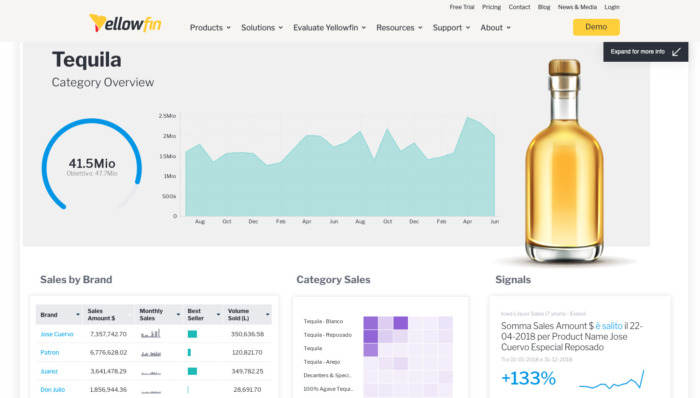 According to Gartner's Magic Quadrant for Analytics and Business Intelligence Platforms, Yellowfin is one of the top Business Intelligence tools on the market in terms of innovation. Originally conceived as a reporting and data visualization software, Yellowfin has expanded its offer with additional Business Intelligence capabilities such as data preparation and augmented analytics.
Pros:
Very innovative
Wide range of functionality
Cons:
Not a top product on the market compared to competitors
Very limited geographic presence
The University of Konstanz case:
In the past, the University of Konstanz had unstructured data all over the place and reporting was extensively based on paper and excel. However, that changed with the arrival of Yellowfin whose "intuitive Business Intelligence solution has enabled a broad range of academic and business decision-makers to access and independently analyze a single reliable source of data – anywhere, anytime from any device."
Without any doubt, the Business Intelligence tools we just reviewed are among the best business intelligence software available. However, there are a plethora of other BI tools that could be of interest for you, your goals and your business. The following image offers two other lists of top BI software currently on the market.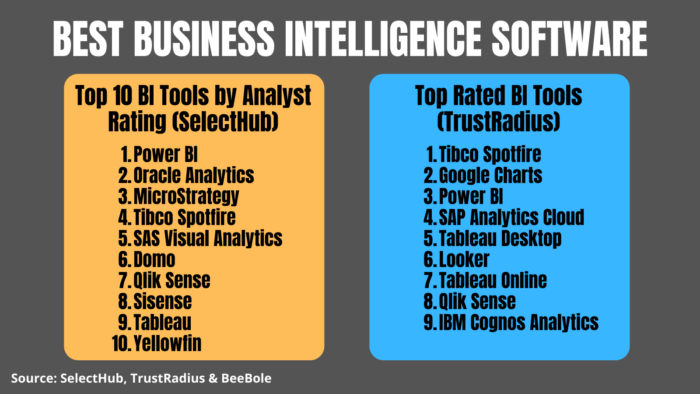 As we just saw throughout this Business Intelligence software list, there are lots of powerful BI solutions on the market nowadays. Choosing the right one will depend on the needs of your business. Remember that the question is no longer whether or not to use a Business Intelligence tool, but rather which BI tool is right for your organization. If you truly want to transform raw data into gold, you need to answer that question with the best business intelligence software for your organization.
Let us know in the comments below: Which BI tools do you use in your company?
—
Photo by John Schnobrich on Unsplash