Streamlined, purposeful employee time tracking can yield valuable insights for your business. Learn how to make the most of your data during Beebole's very first webinar, no matter which timesheet solution your organization uses.
Here at Beebole we're excited to launch a new webinar series created to educate leaders in various aspects of business management, including people management, data, security, budgeting, and, of course, time tracking. We hope Beebole's webinars will be valuable for all industries and a range of professionals, from human resource officers to project managers and chief executives, no matter which software solution your company uses. All our webinars will be completely free and hosted by experts in their respective fields. Read on to learn more about the first webinar on November 8th.
Employee Time Tracking and Analytics: A 101 for Managers
Whether you're a team manager or a team member, a CFO or a CEO, a freelancer or a multi-national, we've all heard the benefits of time tracking. It can help you manage teams and workflows, organize your day to day, streamline your payroll, and reduce administrative costs. Tracking will help identify your time sucks, forecast budgets, analyze trends, and create accurate invoices and reports.
Or at least that's the idea. We all know about the benefits of time tracking, but how many of us are actually reaping those benefits? To help, Beebole is sponsoring "Employee Time Tracking and Analytics: A 101 for Managers", a free webinar hosted by HR expert Suzanne Lucas.
The Pain Points of Time Tracking
It can be a struggle to remember to track your own time, so implementing time tracking for an entire team or company can feel downright impossible. You take time out of your busy schedule to train colleagues and continuously enforce the policies you put in place. Even if you can convince employees to submit timesheets, you might worry about inaccurate reporting or employee time theft. Your efforts to impose time tracking could erode trust and hurt workplace culture. After all, no one wants to feel like they're being constantly monitored or treated like a child. How do you find the middle ground? After all that effort, do you even have anything to show for it?
Time to See the Light and Do Time Tracking Right
All these obstacles might have you wondering why anyone bothers. Despite the possible pitfalls, time tracking is still touted as a positive practice, both professionally and personally, because when done right it does offer big benefits.
This free, 60-minute webinar hosted by HR expert Suzanne Lucas will cover how to reap those benefits, and save yourself a lot of stress in the process. In the webinar, she'll discuss:
Why time tracking is worth it, and why the data you collect during time tracking can be so valuable for your business.
Tips on smooth implementation and compliance for time tracking that your whole team can get behind.
Different time tracking techniques and alternatives, because the same solution may not be right for every business.
Best practices for actually utilizing your time tracking data and saving your company time and money. Time tracking isn't just for payroll!
Join us on November 8th at 4:00pm CET (that's 11:00am EST). Don't forget to save your spot!
Can't make it? Save your spot today and we'll send you a video recording after the webinar.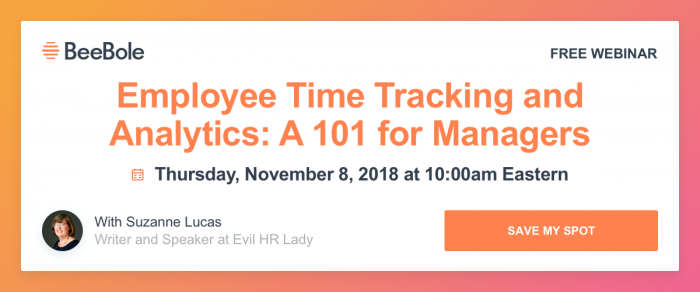 Webinar host Suzanne Lucas, also known as The Evil HR Lady after her wildly popular blog, is a bit of a legend in the HR space. After spending a decade in corporate HR where she hired, fired, and managed the numbers, she moved on to become a full-time writer and speaker focused on helping people have great careers, be better managers, and sort through all of the questions and nuance that come with managing people.
—
Photo by Estée Janssens on Unsplash